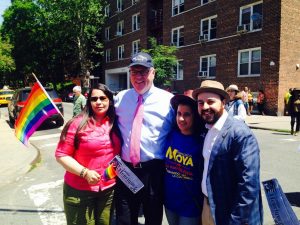 Yanna Henriquez (Democratic district leader candidate), U.S. Rep. Joseph Crowley, Ari Espinal (Democratic district leader) & Francisco Moya (then Assembly member for the 39th district) at the Queens Pride Parade (1 June 2014)
Democrats vs. democracy in Queens: the race in the 39th Assembly district (2018)
by Pauline Park
I have friends (lots of them, actually) who say that simply voting for Democratic candidates will solve all our problems. Well, I could have voted in the special election in the 39th New York State Assembly district, but I decided there was no point, as Democratic District Leader Ari Espinal was the only candidate on the ballot, and not surprisingly, she won; maybe the only surprise is that she won only 681 of the 741 votes cast, the rest being write-ins for dozens of people not on the ballot but didn't even have token opposition ("Espinal wins — as expected," Queens Chronicle, 26 April 2018). Well, Espinal will have to face a challenge in September's Democratic primary from Catalina Cruz, former chief of staff to Julissa Ferreras-Copeland. So the former chief of staff to the former Council member representing the 21st district will face the former chief of staff to the new Council member representing the 21st district, who is the outgoing Assembly member (Francisco Moya) whom Ari Espinal is now replacing (Brandon Jordan, "Ari Espinal Wins In Queens' Only Special Election," Queens County Politics, 25 April 2018).
I've met both Francisco Moya and Julissa Ferreras-Copeland, and I personally canvassed for Moya when he first ran for the Assembly; before they were elected to office, they seemed at least somewhat open to me as a member of the community and (in Moya's case) as a potential constituent; once elected, neither could be bothered with me. In 2017, I wrote Moya about an important public policy issue but did not even get a response acknowledging receipt of the letter, which strikes me as the very minimum responsibility of an elected official with regard to a constituent who has taken the time to write to him; and yet, Moya put me on his e-mail list and has regularly flooded my e-mail in-box with missives about the groundbreaking work he supposedly was doing in the Assembly as well as fundraising appeals for his successful 2017 race for Ferreras-Copeland's Council seat.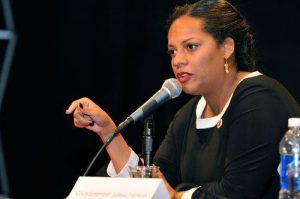 Julissa Ferreras-Copeland
I first met Julissa Ferreras-Copeland (then just Julissa Ferreras) when she was chief of staff to Council Member Hiram Monserrate, the first Latino elected to public office in the borough of Queens (Council district 21), later elected to the New York State Senate (13th district). Ferreras-Copeland survived the scandal that followed upon Monserrate's conviction on assault charges in a widely reported incident of domestic violence involving his then-girlfriend; not only was she successfully able to distance herself from her boss, she actually got the Queens County Democratic Party organization (a.k.a., 'the Queens machine') to back her for her former boss's Council seat. Ferreras helped elect Melissa Mark-Viverito (from East Harlem) Council Speaker in 2014 by bucking U.S. Rep. Joseph Crowley, the enormously powerful Queens County Democratic Party chairman, even going on to become the leading candidate for Council Speaker to replace Mark-Viverito as Speaker until Ferreras mysteriously withdrew from the Speaker's race in late 2017, announcing her retirement from politics altogether, ostensibly because she wanted to spend more time with her husband and children, who had moved to Maryland. Though Ferreras had posed as a community-minded Latina, once in office, she quickly aligned herself with the real estate industry, arguably the most powerful in the city.
There were rumors that party boss Joe Crowley was ready to 'primary' Ferreras and that he was encouraging Moya to carry the torch for the Queens machine as the primary challenger in September 2017; but Ferreras pre-empted that possibility by announcing her retirement, which makes me wonder if Crowley and the machine had something on Ferreras; in any case, her retirement is no loss to Queens, as an occasionally disloyal machine Democrat is now replaced by a reliably loyal machine Democrat.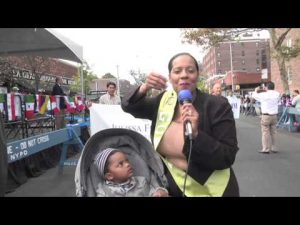 Julissa Ferreras-Copeland
But what would be amusing if it weren't so absurd is the musical chairs of Hiram Monserrate's former chief of staff succeeding him in his Council seat and her chief of staff now challenging Francisco Moya's former chief of staff for the Assembly seat that Moya left to take Ferreras-Copeland's seat, with party boss Joe Crowley calling the tune in this game of musical chairs. Unfortunately, in all of this, the public good counts for nothing as self-interested politicians pursue their self-interest at the expense of the public welfare and a corrupt old party machine maintains a tight-fisted grip on the reins of power in the borough of Queens.
But that's democracy in the county of Queens, where the only candidates for an Assembly seat in 2018 are the hand-picked successors of Queens County Democratic Party machine hacks who square off in a primary followed by an election in which no Republican and no third party candidate has a chance. And yet, believe it or not, I have friends (many, many of them, actually) who tell me that simply voting for Democrats will solve all our problems; but isn't that thinking part of our problem…?