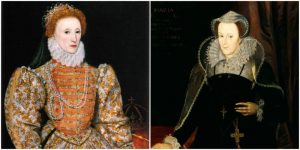 Norsk II presentasjon
fra "Maria Stuart" av Friedrich Schiller
av Pauline Park
"Maria Stuart" er et spill av Friedrich Schiller; dette er min tilpasning av den tredje scenen i den fjerde andlingen av sykket for  presentasjon i norsk klasse vårsemester 2018.
Maria Stuart: Mary, Queen of Scots (1542-1587, reigned 1542-1567)
Elisabeth: Elizabeth Tudor, queen of England (1533-1603, reigned 1558-1603)
MARIA
Endelig møtes vi ~!
So we finally meet ~!
ELISABETH
Du ville snakke med meg. Jeg vet at du ville ha meg drept; men jeg skal lytte.
You wanted to talk to me. I know that you wanted to have me murdered; but I will listen.
MARIA
Jeg er en dronning som deg, men du har holdt meg som fange.
I am a queen like you, but you have kept me as a prisoner.
ELISABETH
Du ville ha kronen min. Men Gud er med meg, og jeg er fortsatt dronning; og du har falt~!
You wanted my crown. But God is with me and I am still queen; and you have fallen~!
MARIA
Jeg er i Guds hender. Din makt vil gjøre deg blodig.
I am in God's hands. Your power will make you bloody.
ELISABETH
Makt er den eneste sikkerheten. Du er en slange og jeg kommer ikke til å legge meg ned med slanger.
Power is the only security. You are a snake and I will not lie down with snakes.
MARIA
Jeg er en skygge av mitt gamle selv etter mange år i gamle fengsler. Jeg vil ha livet mitt. Jeg vil ha friheten min.
I am a shadow of my old self after many years in old prisons. I want my life; I want my freedom.
ELISABETH
Innrømmer du at du er en morder? Du kan ikke lure meg med ordene dine. Og verden en er ikke så interessert i deg. Verden en ønsker ikke at du skal ha din fjerde ektemann~!
Do you admit that you are a murderer? You cannot fool me with your words. And the world is not so interested in you; the world does not want you to have your fourth husband~!
MARIA
Søster~! Søster~! Å, Gud, gi meg styrke~!
Sister~! Sister~! Oh, God, give me strength~!
ELISABETH
Berømmelse var billig: det kostet ingenting. Skjønnhet koster ingenting.
Fame was cheap: it cost nothing. Beauty cost nothing.
MARIA
Jeg var bare en tenåring. Jeg ble forført av makt. Men alle vet hvorfor din mor Anne Boleyn ble henrettet. Jeg burde være dronning av England, og du burde ligge foran meg i støvet. Det sitter er en bastard på Englands trone og hun har forrådt det engelske folk(et) ~! Du burde komme deg ned på knærne og bøye deg for meg fordi jeg er den ekte dronningen av England~!
I was just a teenager. I was seduced by power. But everyone knows why your mother Anne Boleyn was executed. I should be queen of England and you should be lying before me in the dust. There is a bastard on the throne of England and she has betrayed the English people~! You should get down on your knees and bow to me because I am the real queen of England~!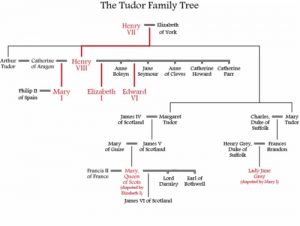 ordliste
spill = play
møtes = meet
drept = killed, murdered
dronning = queen
fange = prisoner
krone = crown
fortsatt = still
falt = fallen
blodig = bloody
sikkerhet = security
slange(r) = snake(s)
skygge = shadow
fengsler = prisons, jails, dungeons
frihit = freedom
innrømmer = admit, confess
morder = murderer
lure = fool, deceive
ønsker = want
ektemann = husband
styrke = strength
berømmelse = fame
billig = cheap
skjønnhet = beauty
tenåring = teenager
forført = seduced
burde være = should be
i støvet = in the dust
forrådt = betrayed
på knærne og bøye deg for meg = on your knees and bow before me