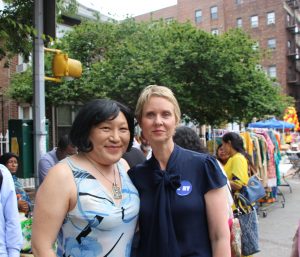 Cynthia Nixon vs. Andrew Cuomo: vote for the homo not the Cuomo
by Pauline Park
Cynthia Nixon's challenge to Gov. Andrew Cuomo is generating attention for many reasons, not least because the former "Sex & the City" star brings Hollywood celebrity to what otherwise might be a dull and uncontested re-election campaign by the dull but astonishingly corrupt and thoroughly anti-progressive Andrew Cuomo. But while I enjoyed the HBO television series and Cynthia Nixon's role as Miranda Hobbs back in the day, her TV stardom has nothing to do with my decision to vote for her and endorse her for governor.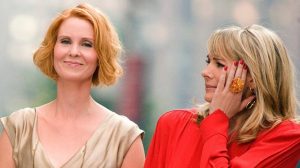 The simple fact is that Democrats have a choice between a genuine progressive and a phony one when they go to the polls in September to vote for the Democratic nominee for governor of the state of New York. Cynthia Nixon is running on a progressive platform that includes alternatives to incarceration, legalization of marijuana and driver's licenses for all New Yorkers, including undocumented immigrants as well as a host of other important progressive agenda items foreign to Andrew Cuomo's anti-progressive corporate agenda.
In sharp contrast, Cuomo has  surrounded himself with corporate lobbyists and his cronies are being convicted of corruption, including Joseph Percoco, one of Cuomo's top aides who Cuomo has said is 'like a brother' to him and who was found guilty on three counts by a federal jury in March 2018 (Associated Press, "Former Cuomo aide Percoco convicted in bribery case," 13 March 2018).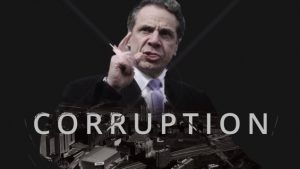 And in July 2018, Alain Kaloyeros, formerly the president of the State University of New York's Polytechnic Institute and the architect of Cuomo's 'Buffalo Billion' boondoggle, was convicted on corruption charges in misusing $500 million in state taxes (Larry Neumeister, "Jury convicts key players in Buffalo Billion corruption case," 12 July 2018). The massive corruption of the Cuomo administration — the most corrupt in the history of the state in terms of the amounts of money involved — is reason enough to vote for the challenger over the incumbent.
Andrew Cuomo's corruption may be on a grand scale but it can also be surprisingly petty. New Yorkers should wonder along with Casey Seiler (@CaseySeiler) about AndrewCuomo, "Who in @NYGovCuomo's campaign was simple enough to think that no one would notice this transparent effort to goose small-dollar contributions?"  As the Albany Times-Union reported, "Roughly 7 percent — or 69 — of the 'small donations' to Cuomo's campaign were $1 donations from one man, Christopher Kim, who shares an address with a Cuomo staffer, Julia Yang, made on July 12, four days before the filing deadline" (Rachel Silberstein and Chris Bragg, "Cuomo team pushed for small donors in fascinating ways," Albany Times-Union, 18 July 2018), noting, "a large chunk of Cuomo's campaign cash came from 114 LLCs, which are used by many individuals and companies to circumvent campaign finance limits by donating through multiple entities."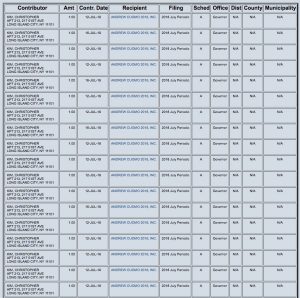 Also notable were hefty contributions from the Winklevoss twins who sought and won regulatory approval from the state to launch their Bitcoin exhcnage app, Zcash. Cameron and Tyler Winklevoss each donated $65,000 — the maximum allowed for an individual — to Cuomo's campaign, according to state records." A governor who deliberately misleads the public about the source of campaign contributions does not deserve re-election. Unfortunately, there's no guarantee that Cuomo's obvious corruption will persuade primary voters to reject him in September or general election voters to reject him in November (Jimmy Vielkind, "Will corruption convictions stick to Cuomo? Don't bet on it," Politico New York, 7.23.18), despite the fact that four of his cronies —Joe Percoco, Sheldon Silver, Alain Kaloyeros and Dean Skelos — have been convicted on corruption charges.
I don't vote on the basis of identity politics alone or even primarily, but the fact that Cynthia Nixon is openly queer — she has referred to herself as 'gay,' 'lesbian' and 'bisexual at different points in time, so one is tempted to say 'LGB' — is not at all an irrelevant fact, especially given Andrew Cuomo's notorious role in organizing the "vote for Cuomo, not the homo" smear campaign during his father Mario Cuomo's race against Ed Koch for the Democratic nomination for mayor of New York (Jen Chung, "Ed Koch Held Decades-Long Grudge Against Cuomos Over 'Vote For Cuomo, Not the Homo' Posters," Gothamist, 1 February 2013). Jen Chung says the smear campaign was "considered one of the worst political dirty tricks in campaign history. Ed Koch was a closet queen, hence the campaign yard signs that popped up all over the Cuomos' native borough of Queens and elsewhere throughout the city; in the end, the 'homo' won that primary, though Mario Cuomo got his revenge by beating Koch in the 1982 Democratic gubernatorial primary, going on to win the general election and becoming governor. And of course, it is only because Andrew is the son of Mario and Cuomo père was governor for three terms that his son was in a position to get the position at the U.S. Department of Housing & Urban Development (HUD) in the administration of Bill Clinton in 1997 and then run for state attorney general.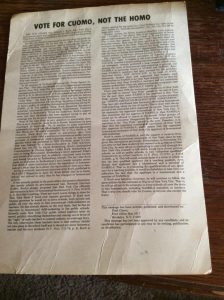 And of course, Andrew Cuomo himself has tried to use identity politics against Cynthia Nixon, most notoriously when he sent his attack dyke Christine Quinn out to publicly savage his rival (Tracy E. Gilchrist, "Christine Quinn Attempts to Clarify Calling Cynthia Nixon an 'Unqualified Lesbian'," the Advocate, 20 March 2018). Chris Quinn was forced to apologize for calling Nixon an 'unqualified lesbian' and the former New York City Council Speaker has not been heard from since that disastrous gaffe. Cuomo often brags about his role in getting the marriage equality bill through the Republican-controlled Senate, but he never mentions the fact that he refused to support the Gender Expression Non-Discrimination Act and actually undercut GENDA by signing an executive order instructing the State Division of Human Rights to add gender identity and expression to the list of categories under which it accepts complaints of discrimination.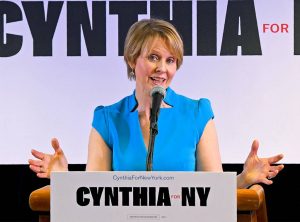 Nor does the governor mention the fact that he has almost single-handedly kept the Senate in Republican hands by prompting Sen. Jeff Klein to form the Independent Democratic Conference to split the Democrats and enable the IDC to prop up the Republican minority and retain control of the upper chamber of the state legislature; Republican control of the Senate has had very significant consequences for the state, enabling Cuomo to block progressive legislation from coming to his desk. Republican control of the Senate has also enabled Cuomo to boast about his ability to 'reach across the aisle' and work with Republicans in the Senate as well as Democrats in the Assembly, even while concealing his crucial role of maintaining Republican control of the Senate.
While the Democratic Party establishment has closed ranks behind Cuomo, progressives are flocking to Cynthia's banner, including independents not closely associated with the party. Susan Kang, a social justice activist and associate professor of political science at John Jay College of Criminal Justice of the City University of New York (CUNY), has written, "There are many ways to make political changes happen but one of the ways to do so is to change the personnel who make the decisions that affect our lives. Endorsing Nixon and Williams is a necessary complementary strategy as we continue to fight for our priority strategies of health care and tenant rights" (Susan Kang, "A DSA Case for endorsing Cynthia Nixon and Jumaane Williams," Medium, 14 July 2018).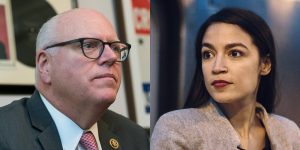 And the Justice Democrats endorsed Cynthia Nixon's campaign in July (Ryan Grim and Zaid Jilani, "Cynthia Nixon and Four Other Progressives Receive Backing of Group That Heped Propel Ocasio-Cortez to Victory," The Intercept, 17 July 2018), the same Justice Democrats who powered the successful campaign of Alexandria Ocasio-Cortez, who endorsed Cynthia Nixon for governor even as Nixon endorsed Ocasio-Cortez in her race against U.S. Rep. Joseph Crowley. The 28-year-old Latina activist and political organizer for Bernie Sanders shocked the city and stunned the political establishment in Washington by defeating the 10-term incumbent and Queens County Democratic Party chair in the Democratic primary in the 14th House district in June. And in fact, Cynthia was with Alexandria on primary night when she won her stunning upset.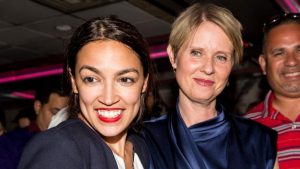 While polls have consistently shown Nixon trailing Cuomo by double digits, Joe Crowley's internal polling was reported to show him 35 points ahead of Ocasio-Cortez less than a month before the primary even though she won by a margin of 15.5%; so Nixon must be hoping that the polls showing Cuomo ahead by 20 points or more are likewise inaccurate and that some of the same voters who came out in droves for Ocasio-Cortez will come out for her (Chris Smith, "'We think those things are transferable to the governor's race': after Alexandria Ocasio-Cortez's shocking triumph, Andrew Cuomo is next on the left's target list," Vanity Fair, 27 June 2018). But just as I was proud to cast a vote for Alexandria Ocasio-Cortez on June 26, I will be casting my vote for Cynthia Nixon in the primary on September 13. When it comes to the choice between Cynthia Nixon vs. Andrew Cuomo, my advice is this: vote for the homo and not the Cuomo~!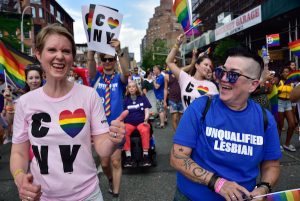 Pauline Park led the campaign for the transgender rights law enacted by the New York City Council in 2002 and in 2005 became  the first openly transgendered grand marshal in the history of the New York City LGBT Pride March; she has a Ph.D. in political science from the University of Illinois at Urbana-Champaign. The opinions expressed here are those of the author and not necessarily of any group or organization with which she is associated.