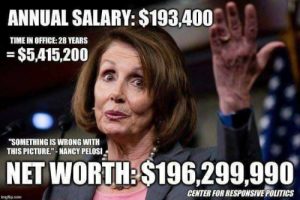 Nancy Pelosi & the LGBT political establishment: the dynamics of community representation in a corrupted political system
by Pauline Park
After two years of raging against Donald Trump, Democrats retook the House of Representatives in the mid-term elections on 6 November 2018, gaining "a net total of at least 37 seats, 14 more than the 23 seats they needed to win control of the House" (BallotPedia, "United States Congress elections, 2018"); but was it because of Democratic House leader and former House Speaker Nancy Pelosi or in spite of her?
Polling data from 1-3 June 2018 showed Pelosi with a favorability of just 29 percent, with an unfavorability rating of 53 percent; even among Democrats, Pelosi had only a slim majority of 55 percent favorability, "matching the lowest rating recorded among her own party's voters in 2009," according to Gallup (Brian Schwartz, "Gallup poll: Nancy Pelosi's favorability rating falls to 9-year low among Democrats," CNBC, 26 June 2018), and a steep fall from her high of 66 percent among her fellow partisans.
So it was perhaps not entirely surprising that Pelosi faced a leadership challenge after the mid-terms; a former member of the Congressional Black Caucus, Rep. Marcia Fudge (Ohio) announced her candidacy for leadership of the Democratic House caucus in early November Mike Lillis, "Dem women rally behind Pelosi," the Hill, 16 November 2018).
In response to Fudge's challenge, a group of 102 LGBT community members issued a statement endorsing Pelosi's candidacy for Speaker of the House, writing,
As LGBTQ individuals and allies who understand that the progress we have made is progress we must protect, we enthusiastically endorse House Democratic Leader Nancy Pelosi in her bid to become the next Speaker of the U.S. House of Representatives. Leader Pelosi has been steadfast and unwavering in her support of the LGBTQ community, beginning with her first speech in Congress in 1987 when she boldly spoke out about the HIV/AIDS epidemic that was ravaging our community at the time. As Speaker, Leader Pelosi passed groundbreaking legislation to protect our community, including the Matthew Shepard and James Byrd, Jr. Hate Crimes Prevention Act, led efforts to repeal "Don't Ask, Don't Tell" and was the first national leader to call for the inclusion of a marriage equality plank in the 2012 Democratic National Convention platform. Whether it's joining Congressman Ted Lieu of California to introduce the first federal bill to ban the practice of so-called LGBTQ "conversion therapy" or working to introduce the Equality Act, a comprehensive LGBTQ civil rights and non-discrimination bill, Leader Pelosi continues to put the LGBTQ community front and center in the overall fight for social justice and equality for all.
Now, more than ever, we need our allies with us in the halls of Congress. There is no better 
ally to the LGBTQ community on Capitol Hill than Leader Pelosi, period. We encourage Democratic House Members to support Leader Pelosi in her bid for Speaker and hope that these Members, whether they be new to Capitol Hill or not, embrace and emulate Leader
Pelosi's tireless work on behalf of the LGBTQ community. 
We look forward to working with Leader Pelosi as Speaker once again in the very near future.
Joan Caivano & Eileen Kessler
Chase & Chris Cormier Maggiano
Ingrid Duran & Catherine 
Pino
Margaret Flinner & Diane 
Cornell
Fred P. Hochberg & Tom Healy
Ambassador James C. Hormel
the Honorable Leslie Katz
("#StandWithNancy: over 100 national LGBTQ advocates & leaders endorse Nancy Pelosi for Speaker of the House")
The Washington Blade reported that "In a statement Thursday, Fudge said she 'would put my record of support for the LGBTQ community against anyone else's,' but has declined to support the Equality Act because she doesn't like the idea of opening up the Civil Rights Act to legislative action" (Chris Johnson, "102 LGBT leaders 'enthusiastically endorse' Nancy Pelosi for speaker," Washington Blade, 16 November 2018).
The Human Rights Campaign (HRC)  gives Marcia Fudge 85% while giving Nancy Pelosi 100%, noting in its profile of Fudge that she was a co-sponsor of nine bills in the 115th Congress supported by HRC but not of 10 other bills, while Pelosi was a co-sponsor of just eight HRC-supported bills while not a co-sponsor of 11; to that extent, given that HRC gives no indication of any weighting of bills in scoring members of Congress, it is difficult to see how Pelosi could get a 100% rating while actually sponsoring fewer HRC-supported bills than Fudge; and to the extent that the 102 signatories to the LGBT 'leaders' statement were focused on the relative merits of Pelosi and Fudge with regard to LGBT issues, it is difficult to see any rationale for supporting Pelosi over Fudge; in fact, there might be good reason to do just the opposite.
In fact, Nancy Pelosi's most decisive action on LGBT issues was to undermine the effort to get a transgender-inclusive version of the Employment Non-Discrimination Act (ENDA) through the House back in 2007. Transgender activists had lobbied U.S. Rep. Barney Frank — the lead House sponsor of ENDA — and HRC for years on transgender inclusion; in April 2007, Frank agreed to introduce a version that included gender identity as well as sexual orientation; transgender activists across the country were delighted to hear the news, only to be shocked and angered when on Sept. 27 of that year, Speaker Pelosi pulled the inclusive HR 2015 and reintroduced the non-inclusive sexual orientation-only HR 3685, leading to the formation of United ENDA, a national coalition including national, state and local LGBT organizations supporting full inclusion ("United ENDA SF").
Pelosi refused to explain her decision and the Speaker would never admit it, but it seemed obvious to me at the time that she wanted to run against a homophobic GOP in the 2008 Congressional elections and she must have come to the conclusion that the newly transgender-inclusive ENDA bill would give Republican members of Congress the ability to vote against it and claim that they were 'pro-gay' but concerned about the transgender provision in the new bill. I am quite certain that at least a few of the 102 signatories to the endorsement statement of Nancy Pelosi know of her betrayal of the transgender community, which makes the endorsement itself a betrayal of the transgender community as well.
But Pelosi's withdrawal of the transgender-inclusive ENDA bill in 2007 was hardly her only betrayal of the LGBT community; she was guilty of sins of omission as well as commission in doing nothing to stop Barack Obama and Hillary Clinton from supporting the 2009 coup d'état that overthrew the democratically elected President Manuel Zelaya of Honduras that brought a brutal military dictatorship to power and supported the junta despite its persecution of feminists, artists, LGBT people, indigenous people, environmental activists and political dissidents; she persuaded Obama to resume US aid to Honduras despite the fact that it was a violation of US and international law. In March 2016, Berta Cáceres was assassinated almost certainly on the orders of the junta ("Remembering Berta Cáceres , Assassinated Honduras Indigenous & Environmental Leader," Democracy Now, 5.4.16). A leading environmental and indigenous rights activist, Cáceres held Hillary personally responsible for the violence and repression under the junta ("Before Her Assassination, Berta Cáceres Singled Out Hillary Clinton for Backing Honduran Coup," Democracy Now, 5.11.16).
Pelosi also did nothing to challenge the Obama administration when it supported the coup d'état that has plunged Egypt into an abyss of corruption, brutal repression and despair (Yahia Hamed, "Egypt's coup has plunged the country into catastrophe," Guardian, 3.16.14). As in Honduras, Obama and Hillary resumed US aid to Egypt in direct contravention of US law, which prohibits continuing aid to a military junta brought to power in a coup. In Libya, Hillary notoriously spearheaded a disastrous intervention, repeating the folly of Bush's 2003 invasion of Iraq (which she voted for), decapitating the regime and leaving a power vacuum which al-Qaeda and ISIS ('Da'esh') have filled.
Pelosi also outrageously supported Israeli apartheid and genocide is particularly disturbing; the Israeli military deliberately targeted civilians in its 2014 genocide in Gaza, killing over 2,500 Palestinians in the Gaza Strip, a majority of them women and over 500 of them children; and Pelosi — like Obama, the Clintons and most Democrats — continues to support the ongoing ethnic cleansing of the indigenous people of Palestine and Israel's pursuit of incremental genocide in the Gaza Strip; how many of those Palestinians are LGBT? Has Nancy Pelosi ever asked herself or her staff or her colleagues that question? Have the 102 signatories to the statement endorsing her ever asked that question?
And of course, Pelosi's long political career is one of unbridled corruption and stridently anti-feminist and anti-progressive legislating; her insistence that "We're capitalists and that's just the way it is" may be one of the few honest public statements she has ever made; what is striking is how little she realizes what an indictment of the Democratic Party that statement is (Mehdi Hasan, "Why Is Nancy Pelosi So Afraid of Socialism?," the Intercept, 6 July 2018). Yet there is nothing in the endorsement from the 102 LGBT community members about Pelosi's record of aggressive defense of Wall Street greed, perhaps because some of those signatories themselves are deeply enmeshed in the same big money interests that Pelosi and the Democratic Party establishment represent and that have corrupted Congress for decades.
Nor is there any recognition in the endorsement statement of Pelosi's opposition to universal health care, which as Speaker she lent the full weight of her office to opposing, to the detriment of LGBT and non-LGBT people alike.
Far from being some sort of heroic defense of a stalwart progressive supporter of the LGBT community, the LGBT endorsement  seems much more to be part and parcel of the "furious lobbying campaign designed to snuff out the insurgency and return her the gavel" that Mike Lillis referred to in his Nov. 16 news story for the Hill. If the statement of the 102 cannot be in any real sense a defense of the transgender or LGBT community, intentionally or unwittingly, the endorsement of Nancy Pelosi for Speaker is actually an endorsement of the irrational and anti-progressive rules of the House, as Rachelle G. Cohen writes: "The septuagenarian House minority leader" may be "merely symptomatic of a far deeper ailment — a seniority system that confines the best and the brightest to the party's back benches" (Rachelle G. Cohen, "House seniority system benches Democrats' best and brightest," Boston Globe, 17 May 2018). Whether intentionally or not, the letter from the 102 LGBT 'leaders' reinforces one of the worst aspects of that seniority system, which Cohen rightly calls 'sclerotic.' Such rules reward wealth, institutional power and status at the expense of new ideas and especially at the expense of underrepresented groups such as women, people of color and LGBT people themselves as well as progressives who are a small minority in the Democratic caucus in the House, dominated as it is by anti-progressive establishment Democrats.
Interestingly and significantly enough, Donald Trump supports Nancy Pelosi's leadership bid just like the 102 signatories to the November statement (Vivian Salama, "Trump Offers Help Securing Votes for Pelosi in Speaker Race," Wall Street Journal, 17 November 2018).
Democratic pollster and close Hillary Clinton friend Douglas E. Schoen lambastes the Democrats trying to push Pelosi's candidacy for Speaker, writing, "…To have Pelosi going up against President Trump would be a foolish mistake for the Democrats to make, given both her overt unpopularity and the fact that partisan attacks against the party as a whole are generally focused on its leaders. During my experience advising President Clinton in 1996, when Newt Gingrich (R-Ga.) was House speaker, the attacks became focused entirely on Gingrich and playing up his unpopularity while the administration worked towards achievable goals such as reducing the debt and the deficit or reforming welfare. This strategy was so successful that the 1998 midterms was the first time in 174 years that the non-presidential party failed to gain seats at the midpoint of a president's second term. In fact, the Democrats gained five seats utilizing this strategy. Given this strategy's effectiveness, I have no doubt that Trump will attempt to do the same to Pelosi. It is exactly why Republicans and the president want her as speaker. If Pelosi is, in fact, the next speaker of the House, Trump will have an already crafted caricature to epitomize as the enemy, further dividing the country and undoubtedly helping the president and Republicans politically. Beyond that, Nancy Pelosi at the helm of the Democratic Party is not where the future of the party lies — not by a long shot" (Douglas E. Schoen, "Fight for Democratic leader is a battle for party's future," the Hill, 18 November 2018).
As thoroughly misguided as the endorsement of the 102 is in substantive terms, there is also a serious process issue here: while the signatories do not explicitly claim to speak for the entire LGBT community, that authority certainly seems implied at the very least; and yet, with whom did the 102 consult before making their endorsement of Nancy Pelosi public? There is of course no process for any individual or organization to speak on behalf of the community as a whole, only the process internal to an organization through which an executive director or chair or president of a board of directors acquires the authority to speak on behalf of that organization. And this endorsement contrasts strongly with the extremely open process by which United ENDA came together, deliberated and reached its conclusions; there is no such transparency here; so the lack of consultative process in the case of this endorsement of Nancy Pelosi as problematic as the substantive import of the endorsement itself.
However well-meaning the endorsement of the 102 LGBT community 'leaders' may be, it actually plays into the hands of Trump and the Republicans; it is foolish and counterproductive and — for those who know of Nancy Pelosi's role in the ENDA debacle, a betrayal; the only good thing about the endorsement is that it is unlikely to have any discernible impact.
Pauline Park is the chair of the New York Association for Gender Rights Advocacy (NYAGRA), which she co-founded in 1998; she led the campaign for the transgender rights law enacted by the New York City Council in 2002; she did her Ph.D. in political science at the University of Illinois at Urbana-Champaign and in June 2005 was the first openly transgendered grand marshal of the New York City LGBT Pride March.