I'm marching for Palestine in the first Queer Liberation March in New York City
Pauline Park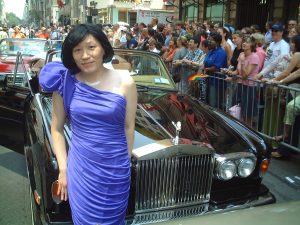 I was deeply honored to be the first openly transgendered grand marshal of the New York City Lesbian, Gay, Bisexual & Transgender (LGBT) Pride March back in June 2005; it was profoundly gratifying to have my activism and advocacy work recognized by Heritage of Pride (HOP) and all the more so since I worked with bisexual activist Sheela Lambert to persuade HOP to change the name of the pride march to the more inclusive 'LGBT.' But in the 14 years since that great day in 2005, I've become increasingly disenchanted with pride parades in this country, which have been taken over by the corporate sponsors that fund them. How enthusiastic should I be to see floats or LGBT 'affinity' groups from the very banks and corporations that are exploiting labor across the country and around the world and contributing to the global climate crisis…?
Amazon is the worst employer in the United States and the biggest corporation in the world; throw in other corporations — such as Wal-Mart, Monsanto, JP Morgan Chase and Citibank, just to name some of the worst offenders — and the LGBT 'pride' parades in our biggest cities look like an advertisement for exemplars of corporate greed, labor exploitation and environmental destruction — what some are calling 'rainbow capitalism.'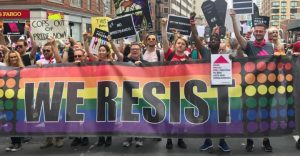 The Reclaim Pride Coalition formed in New York a few years ago to try to push HOP to open up the Pride March to grassroots LGBT/queers fighting for transformational change; but HOP not only refused to consider the coalition's concerns, HOP placed the RPC contingent dead last in the march line-up in the 2018 parade, which is tantamount to excluding a group altogether, given that the mass of spectators dissipates by the time the last contingent in the march arrives. One major concern for RPC is the presence of the New York Police Department (NYPD) in the Pride March; members of the Gay Officers Action League (GOAL) march in uniform in a contingent every year, problematic given the continued police brutality directed against members of the LGBT community by the NYPD. Because of HOP's refusal to take its concerns seriously, the coalition decided to hold the first Queer Liberation March in New York City history, which will take place on June 30 (Tim Fitzsimmons, "'Queer Liberation March' sets stage for dueling NYC gay pride events," NBC News, 15 May 2019) .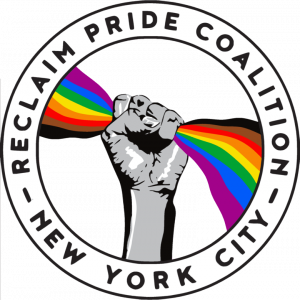 I have been doing LGBT activism since 1994, but in 2011, I co-founded New York City Queers Against Israeli Apartheid (NYC QAIA) with several other queer activists fed up with the NYC LGBT 'Community' Center's ban on Palestine solidarity organizing at the Center, which lasted for two years, from Feb. 2011 to Feb. 2013; I actually wrote the only full-length account of that saga ("Israel & the LGBT Community Center ban on Palestine organizing 2011-13"). As a result of my work with NYC QAIA, I was invited to participate in the first LGBTQ delegation tour of Palestine in January 2011 ("Palestine: the first LGBTQ delegation tour in pictures") and saw the reality of Israeli occupation and apartheid for myself first hand.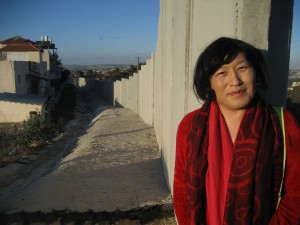 Because of my commitment to the liberation of Palestine and all Palestinians — queer and non-LGBT as well — I will be marching for Palestine in the first Queer Liberation March on June 30. I'm excited at the prospect of marching in a contingent that will include members of NYC QAIA and the queer and trans caucus of Jewish Voice for Peace, an organization QAIA works with on a regular basis.
The Queer Liberation March begins on Seventh Ave. just below Christopher Street in Manhattan's Greenwich Village at 9:30 a.m., marches on W. 10th St. to 6th Ave. and up 6th Ave. to Bryant Park and then on to Central Park, entering the park at 59th St. and Sixth Ave. and then to a final rally on the Great Lawn scheduled for 1 p.m.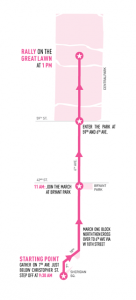 On the occasion of the 50th anniversary of the Stonewall Uprising, it is worth noting that it was not an event 'permitted' by the NYPD or even by an LGBT organization; it was a spontaneous popular uprising against police harassment and police brutality. This year's NYC Pride March has been designated 'World Pride,' but my experience of World Pride in Madrid in 2017 left me unimpressed by that designation; it simply means more people participating in a largely commercialized and corporate event.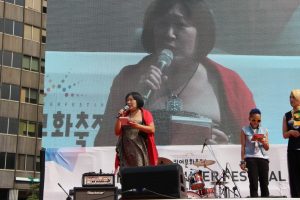 In June 2015, I was honored to be invited to keynote the Queer Korea Festival/Seoul Pride Parade, the largest event in the history of the LGBT community of Korea up until that time, drawing a crowd estimated to be more than 35,000; in Seoul, they do the 'festival' first and then the march; the irony is that while it's called a 'pride parade,' Seoul Pride felt to me much more like a real march than the NYC Pride March ever has; in contrast with the endless corporate floats & affinity groups rolling down Fifth Avenue in Manhattan, Seoul Pride felt like ordinary Koreans and their friends and allies marching for their rights, with no corporate floats or sponsorships.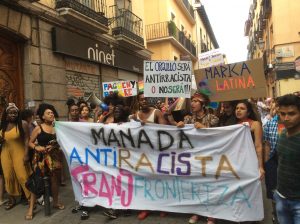 Two years later, in June 2015, just a few days before Madrid Pride/World Pride, I participated in Orgullo Critico (Critical Pride), a grassroots progressive alternative to the mainstream pride parade, marching with Los Racializados, the people of color contingent critical of the overwhelmingly white leadership of Orgullo Critico — a doubly critical statement about 'pride'~! Orgullo Critico reminded me of Seoul Pride and the contingent of Los Racializados even more so.
LGBT people and their friends and allies in New York City will have a unique choice on June 30; most will flock to Fifth Ave. for the largest pride parade in LGBT history; but those who really want to *make* history will not settle for passive participation in an elaborate corporate marketing event but will instead join me and my colleagues and friends in NYC QAIA, JVP and RCP in the first ever Queer Liberation March and march for true liberation for all, from Central Park to Palestine~!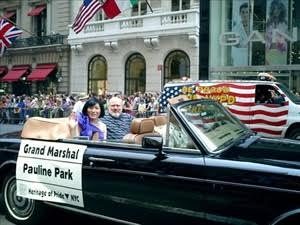 Pauline Park, Ph.D. is chair of the New York Association for Gender Rights Advocacy (NYAGRA), a statewide transgender advocacy organization that she co-founded in 1998, and president of the board of directors of Queens Pride House, which she co-founded in 1997. Park led the campaign for passage of the transgender rights law enacted by the New York City Council in 2002.  In January 2012, Park participated in the first US LGBTQ delegation to Palestine, a seven-day tour of the West Bank and Israel that included meetings with LGBT- and non-LGBT Palestinians and Israelis. Park did her B.A. in philosophy at the University of Wisconsin-Madison, her M.Sc. in European Studies at the London School of Economics and her Ph.D. in political science at the University of Illinois at Urbana. Park has written widely on LGBT issues.