Tiffany Cabán for Queens DA|
Pauline Park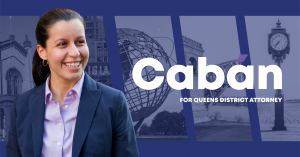 Queens has a population of well over 2.3 million, making the borough larger than many of the 50 states; Queens is also the most diverse county in the United States; but for decades, the district attorney's office was run by the notoriously anti-progressive Richard Brown, who deceived the public for years about the true state of his declining health. Now Brown's subordinates acting district attorney John Ryan and his top deputy, James Quinn, want to replace their old boss with Melinda Katz, the outgoing borough president, who is the most likely to maintain Brown's right-wing regime in the DA's office. Theodore Hamm is reporting that Ryan and Quinn actually approached Katz to run for the office (Theodore Hamm, "Was BP Katz Recruited To Queens DA Race by Richard Brown's Top Lieutenants?," the Indypendent, 11 June 2019). As Hamm notes, "Perhaps most important to Ryan and Quinn was her lack of criminal court experience, since that would ensure their continued influence in a Katz administration," adding, "In terms of ideology, both men are vituperative reactionaries." Which is of course precisely why the Queens County Democratic Party organization is backing Katz, who is clearly the frontrunner, given that the Queens machine is the most powerful as well as one of the most ruthless and corrupt political machines in the state if not the country; but Tiffany Cabán has gotten the endorsement of U.S. Rep. Alexandria Ocasio Cortez (a.k.a., 'AOC'), who stunned the political world by unseating party boss Joseph Crowley in the Democratic Party primary for the 14th House district last June; Joe Crowley is now a lobbyist on K Street in Washington, D.C. and it's not entirely clear whether his successor — the notoriously corrupt U.S. Rep. Gregory Meeks — wields the same clout as Boss Crowley; hence the endorsement of Boss Meeks may not mean as much to Katz's candidacy as Joe Crowley's might have.
Tiffany Cabán is the only openly LGBT/queer candidate in the crowded field seeking to succeed Richard Brown and so one might think she'd be a shoo-in for the endorsement of the Stonewall Democrats of New York City, but the only citywide LGBT political club in New York instead endorsed the heteronormative borough president even as the Victory Fund — whose mission is to elect LGBT people to public office — endorsed the openly queer candidate (Matt Tracy, "Victory Fund Endorses Tiffany Cabán; Stonewall Backs Melinda Katz," Gay City News, 30 May 2019); Stonewall never explains its endorsements, so one can only conclude that openly gay Council Member Daniel F. Dromm (D-25) exercised the decisive influence on the club's decision in favor of his Queens machine crony and longtime 'friend' Melinda just as Danny Dromm like Melinda Katz endorsed Joe Crowley over another young Latina, Alexandria Ocasio Cortez, when she challenged the enormously powerful party boss for re-election to this House seat last year; whether it was Danny Dromm's insidious influence as the capo of the club, Stonewall Democrats betrayed their own mission by endorsing the anti-progressive heteronormative white candidate over the progressive queer Latina.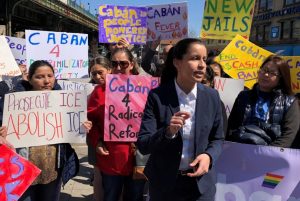 Melinda Katz may be the dominant figure in Queens politics as the borough president with access to unlimited wealth and power, but it was Tiffany Cabán who won the endorsements of the two leading progressives in the 2020 Democratic presidential race, Bernie Sanders and Elizabeth Warren (Gloria Pazmino, "Cabán Receives Endorsements of Two Presidential Candidates in Queens DA Race," NY1, 19 June 2019). Tiffany Cabán also won the most coveted endorsement in local elections in this city, that of the New York Times, which called her "the best pick" and noted that she "would come into office unencumbered by ties to the borough power structure and free to pursue her commitment to serve the community by doing more than just winning elections" ("Tiffany Cabán for Queens DA for Queens District Attorney," New York Times editorial board, 18 June 2019). These endorsements from Bernie Sanders, Elizabeth Warren,  Alexandria Ocasio Cortez and the New York Times as well as the Democratic Socialists of America (DSA) are an impressive testimony to the quality of Tiffany Cabán's candidacy and her commitment to progressive change in the anti-progressive and even reactionary office of the Queens DA that Richard Brown has left behind; that being said, when making my personal endorsement in any race — obviously dwarfed by the aforementioned endorsements — I am not swayed by anyone else's endorsements.
And I would not endorse anyone solely or even primarily because s/he identified as LGBT/queer, though if Tiffany Cabán is elected Queens DA she would be the first openly queer official in Queens elected to borough-wide office. Rather, I am endorsing Tiffany Cabán for Queens DA because she is the one true progressive in the race and committed to bringing transformational change to the office.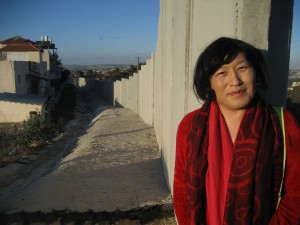 Pauline Park, Ph.D. is chair of the New York Association for Gender Rights Advocacy (NYAGRA), a statewide transgender advocacy organization that she co-founded in 1998, and president of the board of directors of Queens Pride House, which she co-founded in 1997. Park led the campaign for passage of the transgender rights law enacted by the New York City Council in 2002.  In January 2012, Park participated in the first US LGBTQ delegation to Palestine, a seven-day tour of the West Bank and Israel that included meetings with LGBT- and non-LGBT Palestinians and Israelis. Park did her B.A. in philosophy at the University of Wisconsin-Madison, her M.Sc. in European Studies at the London School of Economics and her Ph.D. in political science at the University of Illinois at Urbana. Park has written widely on LGBT issues. (This endorsement is a purely individual and personal one and does not represent the views of any of the aforementioned organizations, noted here only for informational purposes.)