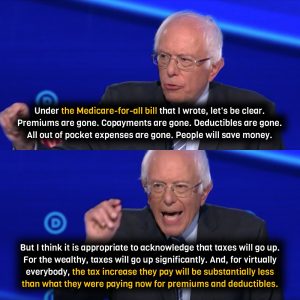 Bernie Sanders for President
by Pauline Park
It is with pride that I endorse Bernie Sanders for president of the United States. The choice of the senator from Vermont was an easy one for me; I had endorsed him in 2016 and voted for him in the New York primary that year and it is clear to me that he is the only consistently progressive candidate in the 2020 field.
I am certainly not going to vote for Pete Buttigieg just because we're both members of the same lesbian, gay, bisexual, transgender and queer (LGBTQ) community or for Andrew Yang just because we're both Asian American; neither is truly progressive and both have taken positions on issues that run counter to mine. Yang's basic minimum income seems to be his only real idea and while he has some interesting things to say about labor and technology, his thinking on most other issues is woefully inadequate; and his playing on stereotypes about Asian Americans being good at math, science and computer technology is not helpful, nor is his playing into the Model Minority Myth. At his best, #MayoPete is as bland and white as mayonnaise; but Buttigieg's courting billionaire donors and his work for McKinsey & Co. are a real indictment of #WineCavePete. It's pretty clear that pushing the interests of the Wall Street oligarchy are #WallStreetPete's real agenda; and his support for Apartheid Israel should discredit him with progressive voters everywhere.
Of course, the same points about the Wall Street oligarchy and Apartheid Israel could be made about most of the Democrats in the 2020 field, Joe Biden above all; his lying about his vote for George W. Bush's disastrous Iraq war and his collaboration with segregationists to block desegregation puts him beyond the realm of consideration. And the also-rans are hardly worth talking about.
All of which leaves just Elizabeth Warren as the only credible alternative to Bernie Sanders; but while the mainstream media love to cast the two of them as the Bobbsey Twins of the 2020 race, the superficial similarities between the two of them give way upon closer to examination to a study in contrasts: while Bernie has been consistently progressive for the last half century, Elizabeth Warren is a recent convert to progressive politics, having spent most of her adult life as a Republican supporting an anti-progressive policy agenda; while there are many good things to say about Elizabeth Warren and while I think she would make a good running mate for Bernie Sanders, Warren's vacillation over Medicare for All and her refusal to take a firm position on Israel's illegal occupation of Palestine finally rule her out for me.
And that leaves Bernie Sanders as the only consistently progressive candidate in the 2020 race. As an activist who has been doing Palestine solidarity work since March 2011, I have to offer a few thoughts about Bernie's position on Israel/Palestine, which falls short of the ideal; he still insists that the united States should regard Israel as an ally and is still using the discredited language of the 'two-state solution.' That being said, while Bernie isn't where he needs to be, he is light years ahead of the rest of the pack — including Elizabeth Warren — on Israel/Palestine; Bernie is the only 2020 candidate who has consistently criticized the illegal occupation of Palestine and the only one who has ever raised human rights in illegally occupied Palestine in any presidential debate; and as a result, the Zionist machine has started a smear campaign against him, implying that he's an anti-Semite, despite the fact that he is the only Jewish candidate in the race and lost many family members in the Holocaust and despite the fact that he would be the first Jewish president of the United States if elected; and of course, that's precisely what alarms Zionists — the prospect that a non-Zionist Jew could become president and could begin to redirect US foreign policy away from enthusiastic support for Israel's ethnic cleansing of the indigenous people of illegally occupied Palestine and pursuit of genocide in Gaza.
Bernie's position on Israel/Palestine has been evolving in a positive direction for several years now and he has been endorsed by Ilhan Omar and Rashida Tlaib — the first Muslim members of Congress, Tlaib also being the first Palestinian member of Congress — as well as my own representative, Alexandria Ocasio Cortez, the leading progressive voice in Congress today; the three members of 'the Squad' have endorsed him because of his support for human rights for everyone in Israel/Palestine as well as his progressive record overall; but theirs are only the best known endorsements; a host of individuals and organizations have endorsed Bernie, including the Sunrise Movement, a national movement for action on climate change — a threat to the very survival of planet earth (Isabella Murray, "Sunrise Endorsement Adds to Sanders' Momentum In Iowa," Iowa Starting Line, 13 January 2020).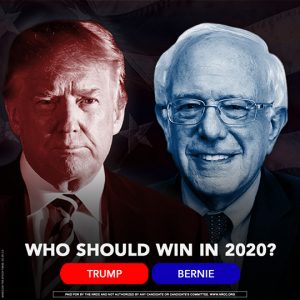 Pauline Park, Ph.D. is an LGBT rights activist based in Queens; she led the campaign for the transgender rights law enacted by the New York City Council in 2002 and co-founded several different LGBT organizations in New York. Park was the first openly transgendered grand marshal of the New York City LGBT Pride March in 2005 and participated in the first US LGBTQ delegation tour of Palestine in 2012; she was the keynote speaker at the Queer Korea Festival/Seoul Pride Parade in 2015. This endorsement is made in a purely personal capacity and does not represent the views of any organization with which the author is associated or has been associated.