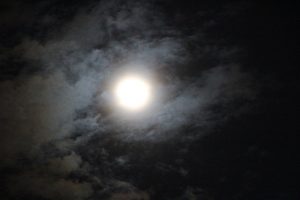 2019 was a unusual in two respects: the second half of the year was dominated by a prolonged dental crisis, but on a happier note, I began to dream regularly in foreign languages; that has happened so often in the last year that I began to keep a record of it ("Nacht und Träume: dreaming in languages, speaking in tongues"). I began dreaming regularly in French while living in Brussels in 1991 and Paris in 1992 and have often dreamt in French over the years; but until this year, it was exceedingly rare for me to utter even the odd word in my dreams in any language other than English or French; taking intermediate German at Deutsches Haus seems to have stimulated a regular pattern of dreaming at least words and even occasional sentences in the language; oddly, it has also stimulated dreams in Italian and even words, sentences and arias in Italian, Spanish and Latin as well.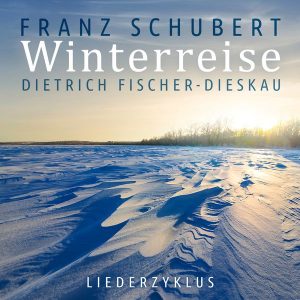 In the spring term at NYU, I took the third of three intermediate German courses at Deutsches Haus; the class started out with four students but eventually dwindled to just one — me; my teacher for all three terms was a Swiss woman and Heidi's interest in art meant that we could focus on painting and the visual arts for a few of the sessions; we also spent a few sessions on Romantic literature, including Märchen, which dovetailed nicely with my own interest in the fairy tales of the Brothers Grimm; in fact, in a rather extraordinary coincidence, after spending a session on one of the Grimmsmärchen, I passed by a street bookseller on 6th Ave. and W. 8th St. only to find a book about the Grimmsmärchen (in English) by a leading feminist critic of the Gebrüder Grimm. And my project over the course of the last year has been to read the entire collection of "Haus- und Kindermärchen"; by the end of the year, I had read 152 of the 210, many of them just before going to bed.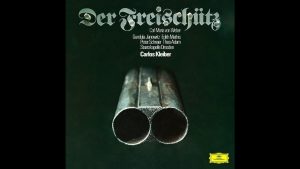 Perhaps the most important achievement of the spring term was my writing of an original essay on "Musik und Oper der deutschen Romantik," which came out of the last few sessions of the term. Heidi grew up with pop music and was interested in what I had to say about 'classical' music, in particular, the Lieder of the Romantic composers Schubert, Schumann, Mahler and Strauß as well as the tradition of German opera from Mozart to Strauß. I explained at length and in detail the significance of Carl Maria von Weber's opera "Der Freischütz" as the foundation stone of German opera and Romantic opera more generally. Heidi actually took notes in a surprising role reversal and encouraged me to write them up into an essay, which I did; she then went over it to correct grammatical errors; this essay on the "Musik und Oper der deutschen Romantik" is the product of those class sessions and the first lengthy essay I have ever written in German.
2019 was marked by some significant accomplishments in 2019, some significant disappointments, and hundreds of activities documented on-line through Facebook and Twitter; below are just some of those activities.
1.2.19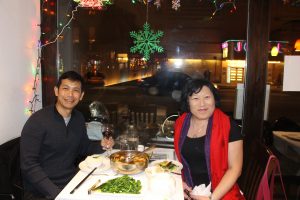 The year started out auspiciously with dinner at a Chinese restaurant with my friend the Singapore-born poet Jee Leong Koh.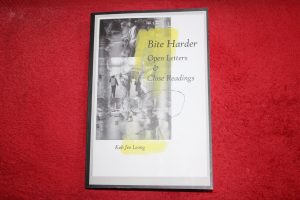 Jee Leong gave me a copy of his book, "Bite Harder."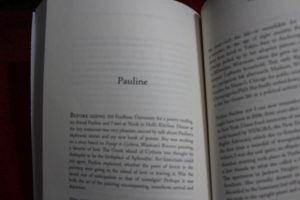 One of the chapters is entitled "Pauline."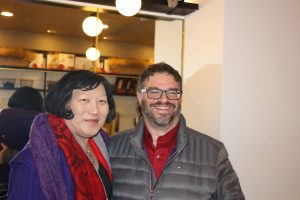 After dinner, I joined my Israeli friend Uri Horesh for dessert; Uri is a professional linguist and we had a great chat about languages and life.
1.12.19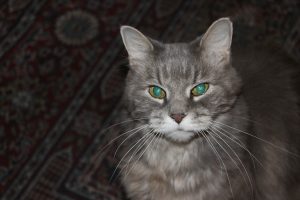 After the Philosophy Forum on Jan. 12, members decamped as usual to our favorite Thai restaurant for dinner. After dinner, Warren, Andrea and I walked back to Warren's for dessert and I took this shot of Smokey le Chat, who sadly crossed the rainbow bridge only a few months later, which is why Warren especially loves this photo of Smokey…
1.22.19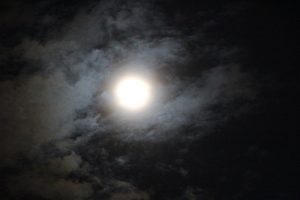 I love the moon and I especially love the moon enveloped in clouds.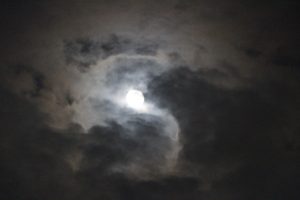 I was able to capture these images with my digital camera.
1.25.19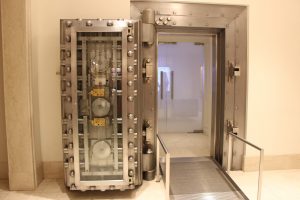 I had to take my iMac into Apple's store on the Upper East Side to have it repaired; this particular Apple store is in an old bank building with the old vault still intact.
1.27.19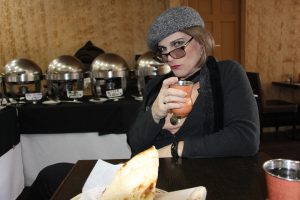 I had lunch with LuLu at an Indian restaurant in Jackson Heights; we were the first to partake of the buffet and had the whole restaurant to ourselves; we then went to the Goodwill on Van Dam St. in Long Island City for some thrift store shopping.
2.9.19
I attended the February meeting of the Philosophy Forum on the 9th and went out to dinner at our favorite Thai restaurant afterwards, then decamped for dessert chez Warren.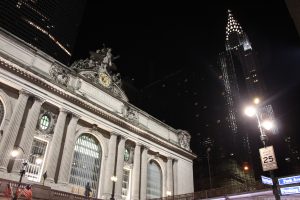 On the way home, I captured Grand Central in this photo.
2.22.19
On Feb. 22, I went to Scandinavia House to join Warren Wyss for a film screening of a docudrama about a Korean adoptee who returns to Korea to find her birth family.
2.24.19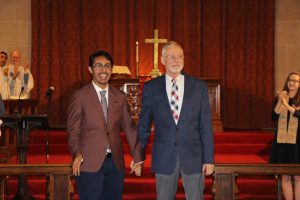 On Feb. 24, I joined David and Ahmed for their wedding at the Broadway United Church of Christ and the reception afterwards.
2.25.19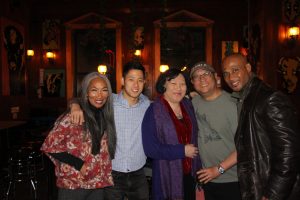 On Feb. 25, I joined Glenn Morey for a screening of the film based on his "Side by Side" project and then joined him and Also-Known-As members for drinks at the Pioneer across the street.
2.26.19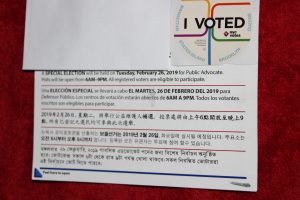 On Feb. 26, I voted in the special election for New York City public advocate.
2.28.19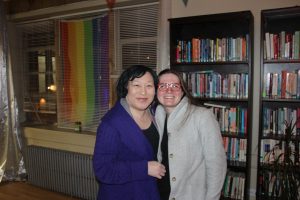 I was delighted to see Aurora at Queens Pride House on Feb. 28.
3.5.19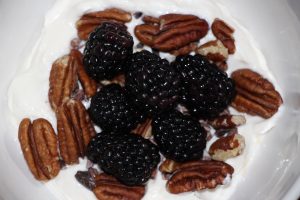 I continued to enjoy Icelandic skyr and Greek yogurt with organic berries and raw cacao nibs and either organic walnuts or organic pecans.
3.8.19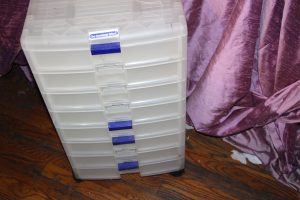 Coming home from German class at Deutsches Haus on March 8, I came across a plastic filing cabinet of sorts on wheels and took it home with me on the subway; I then labeled each of the drawers and filled them with sheet music; best of all, the container from the Container Store fit under my piano and so has become an essential tool for keeping my sheet music organized.
3.9.19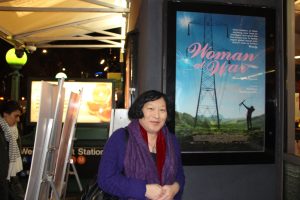 I attended the March meeting of the Philosophy Forum on March 9 and went out to dinner with other members at Royal Siam afterwards; Bruce and I then went to see "Kona Fer í Stríð" (Woman at War), Benedikt Erlingsson's 2018 film starring Halldóra Geirharðsdóttir.
3.16.19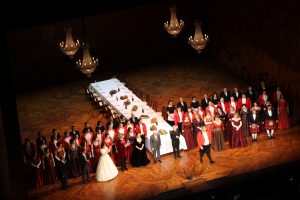 I went to the Metropolitan Opera with friends to see Ambrogio Maestri — widely considered the leading Falstaff today — in Robert Carsen's superb production of Verdi's last and greatest opera; Ailyn Pérez (Alice Ford) and Golda Schultz (Nanetta) were the other standouts and this "Falstaff"  was one of the best productions I'd seen at the Met for years. Afterwards, Rafael, Michael, Greg, Paul and Michael went out to dinner at Shun Lee West.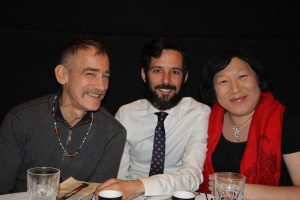 And after dinner, Paul and I decided to go to the Metropolitan Museum, making it my first 'double Met' day ever; it was especially enjoyable and meaningful because Paul Wirhun is himself an artist.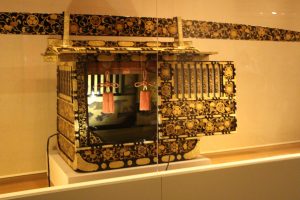 We saw a wonderful exhibition of art and artifacts related to "The Tale of Genji" and I was especially struck by an Edo era bridal palanquin (1856).
3.24.19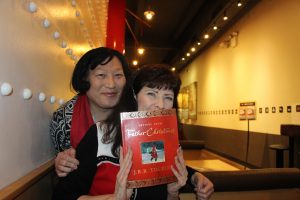 I participated in the NYC Area Friends of JRR Tolkien & Fantasy Tolkien reading day, reading a passage from "The Silmarillion." Afterwards, some of us went out for Japanese around the corner; this is me with Charlene holding a copy of Tolkien's delightful "Father Christmas" book.
3.22.19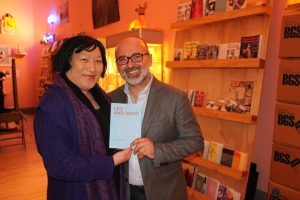 On March 22, I attended a book reading and signing at the Bureau of General Services Queer Division (BGSQD) and heard Luca Leonvago read from his book, "Leo & David"; I bought a copy, which Luca signed for me.
3.30.19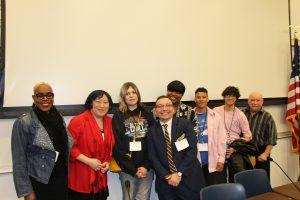 I participated in a plenary panel on transgender community intergenerational dialogue at the Psychotherapy Center for Gender & Sexuality (PCGS) of the Institute for Contemporary Psychotherapy (ICP) TransFormations conference on March 30 organized by my friend and colleague S.J. Langer.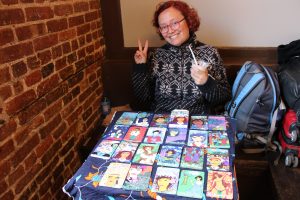 Later that day, I got together with my friend Asor from Madrid who was visiting New York for the first time; she showed me the deck of tarot cards she designed.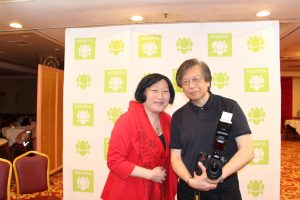 On the penultimate day of March, I attended the National Queer Asian & Pacific Islander Alliance (NQAPIA) annual dinner in Chinatown and got a photo with Corky Lee, the photographer who has been documenting the Asian American community for decades now.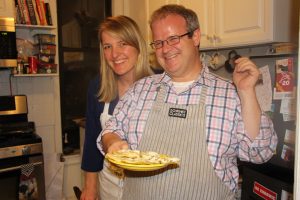 After the NQAPIA dinner, I went up to Harlem for Mark Canavera's housewarming party.
4.6.19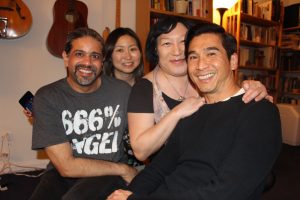 On April 6, I joined Margaret, Joseph and David chez Vikas in Jackson Heights for a wonderful dinner party full of interesting conversation and some great laughs about a massage machine's creepy resemblance (in its operation) to Creepy Joe Biden.
4.13.19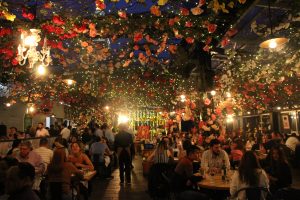 After the April 13 Philosophy Forum meeting, I passed through Eataly on W. 23rd Street in Manhattan; this is the scene of the rooftop garden that I shot with my digital camera.
4.14.19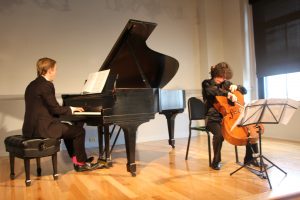 I went to the Manhattan School of Music on April 14 to attend Paul's recital, which included a violinist and a cellist,  all three of them students at the school. 
4.17.19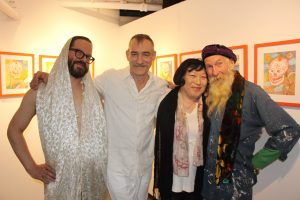 On April 17, I attended the opening of Paul Wirhun's art exhibition in Manhattan; this is Gladiola, Paul, me and Donald at the opening.
4.19.19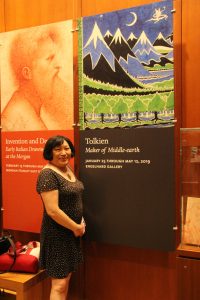 I caught the exhibition "Tolkien: Maker of Middle Earth" on its last day at the Morgan Library; there were some wonderful illustrations by Tolkien, whose skill as a visual artist is not as widely recognized as it should be.
4.21.19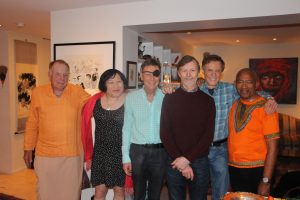 On April 21, I enjoyed a festive Easter with friends chez Richard and Paul in Manhattan.
6.20.19
On June 20, I gave Brazilian friends a tour of Queens Pride House and then went out with them for lunch at an Indian restaurant in Jackson Heights.
6.22.19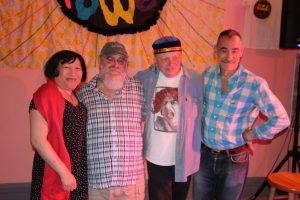 On June 22, I participated in a special event at the LGBT Center in Manhattan organized by Paul Wirhun where I read "The Multiple Migrations of a Transgendered Korean Adoptee," my contribution to the special issue on migration of Radical Faerie Digest (RFD) edited by Bambi Gauthier (second from left) and Paul Wirhun (far right); Keith Gemerek (third from left), a longtime member of the Radical Faeries, also spoke at the event; my autobiographical essay was one of the most significant pieces of writing that I wrote in 2019.
6.30.19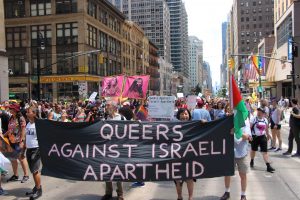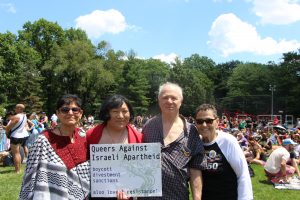 In a blog post on June 18, I explained why "I'm marching for Palestine in the first Queer Liberation March in New York City" (posted June 18); I was honored and delighted when Mondoweiss (one of the leading Palestine-related news websites) published my blog post. On June 30, I participated in the first ever Queer Liberation March, an alternative to the commercialized and corporatized New York City LGBT Pride March organized by Heritage of Pride (of which I was the first openly transgendered grand marshal back in 2005).
7.17.19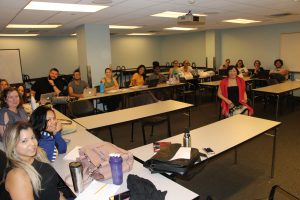 On July 17, I had lunch with Stuart Chen-Hayes and then spoke to his class at Lehman College (CUNY) about my activism.
7.23.19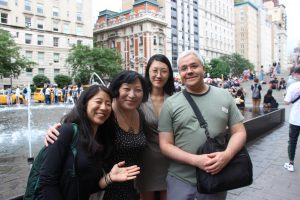 On July 23, I went to the Metropolitan Museum in Manhattan to meet up with Tae-kyung, Sina and Greg; it was great seeing all of them and especially Tae-kyung, whom I first met in Korea in 2015 and hadn't seen since then; Sina had to leave early, but Tae-kyung, Greg and I were able to see a good deal of the museum together, including the Met's small but impressive collection of Korean art as well as the Egyptian Temple of Dendur.
7.25.19
On July 25, I facilitated a meeting of the Queens Pride House transgender support group and then went out to dinner with members at the Afghan Kebab House on 37th Ave. in Jackson Heights.
7.26.19
On July 26, I flew American Airlines to Los Angeles (LAX) via O'Hare (ORD) and checked into the Line Hotel upon my arrival in Koreatown.
7.27.19
On July 27, I attended an Adoption Citizenship Act summit with over 50 other Korean adoptees to learn about this important legislation and talk about ways we can recruit members of Congress to co-sponsor and support it.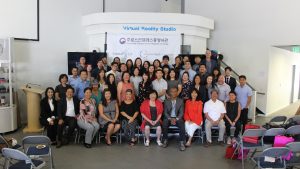 Following the Adoption Citizenship Act summit, I joined other participants in a wonderful dinner at the Korean Consul-General's residence.
7.28.19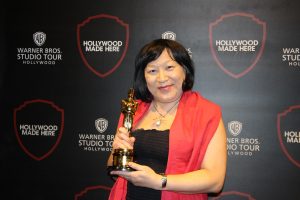 On July 28, my new friend Jannie and I took a tour of the Warner Bros. studios in Hollywood together; it was really fun and gave me some real insight into the backstage world of television and film production.
7.29.19
On July 29, I spent the day touring LA on my own; I went to City Hall and got a great view of the city from the top.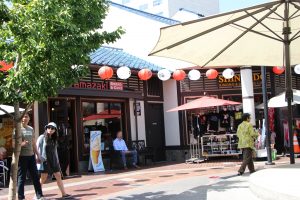 I visited Nihonmachi (Japan Town) for the first time and then took the Metro to South Pasadena and to Santa Monica, where I caught the sunset over the Pacific Ocean.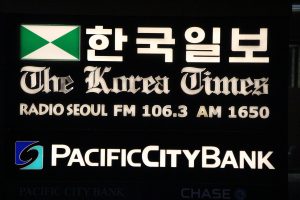 After a wonderful but exhausting day, I was happy to get back to the hotel in Koreatown to have my last night's sleep in the City of Angels before returning to the city that never sleeps.
7.30.19
On July 30, I took a bus out to LAX to catch my flight back to New York; after a somewhat unpleasant interaction with a transphobic TSA staffer, I had a great flight back and watched not just one but two wonderful films on the flight. "Bohemian Rhapsody" is a biopic about Freddy Mercury which won Rami Malek an Academy Award for best actor; even better was "The Favourite," which won Olivia Coleman an Academy Award for best actress. The trip to LA was my first and actually only trip out of town all year and while it was a wonderful weekend, I was relieved to get back to New York even if it was a very late night indeed.
9.10.19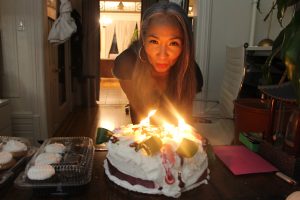 On Sept. 10, I attended Stefanie Blandon's birthday party chez Miilton Washington; Stefanie looked radiant (as always) and no more so than when she blew out the candles on her cake; I was happy I was able to capture the moment with this shot, which got well over a hundred 'likes' when I posted it on Facebook.
8.7.19
At the Philosophy Forum steering committee's annual planning meeting, we were able to plan out the entire upcoming 2019-2020 season in less than an hour; afterwards, we all went out to dinner at an Indian restaurant in Manhattan's Curry Hill.
8.30.19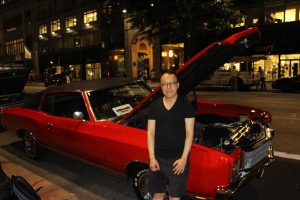 On Aug. 30, I had dinner in Manhattan's Koreatown and a wonderful conversation with my friend Jian, who posed for this cute pic in front of one of the classic cars parked all in a row on 42nd St. along Bryant Park.
9.5.19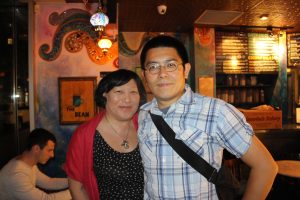 Yeou-Shiuh and I joined two of his friends to see "Tel Aviv on Fire" at the Quad Cinema in the Village; we all agreed that there were some serious problems with the movie but that there was also much that was worthwhile with the narrative feature film about a fictional screenwriter who ends up collaborating with an Israeli soldier on a soap opera being produced in the illegally occupied West Bank. Afterwards, I went to the Strand and found some wonderful books in the dollar book bins.
9.12.19
Queens Pride House transgender support group
9.14.19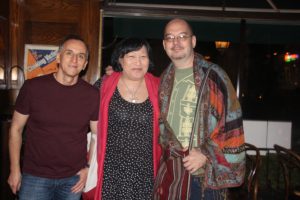 On September 14, I got together with my friend Rafael for dinner at a Chinese restaurant in the Village; we then joined our mutual friend Juan for dessert at an Italian restaurant; I hadn't seen him for several years and was delighted to have the opportunity to catch up with both of them.
9.18.19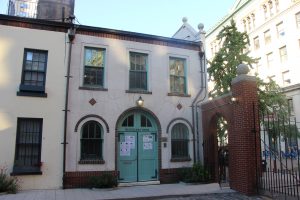 On Sept. 18, I began a new course at Deutsches Haus; the previous academic year, I had taken three intermediate German courses at Deutsches Haus, all taught superbly well by a teacher from Switzerland; in the fall of 2019, I took a conversation course on the history of Berlin with a Berliner who grew up in East Berlin under the old DDR (GDR) regime. 
9.27.19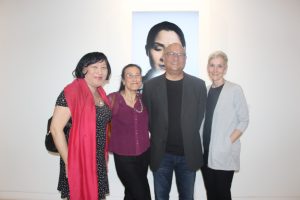 On Sept. 27, I attended the opening of the exhibition of videos from Glenn Morey and Julie Smith Morey's "Side X Side" video project at a swanky gallery on the Upper East Side; it was really the Korean adoptee event of the season. I was delighted to see Glenn (third from right) there as well as Julie (fourth from right) and Susannah Kraeuter, an old friend who lives in western New Jersey and whom I don't see very often at all; afterwards, we went out to dinner with Michael Mullen (president of Also-Known-As, Inc., the sponsor of the event) and other AKA members.
9.28.19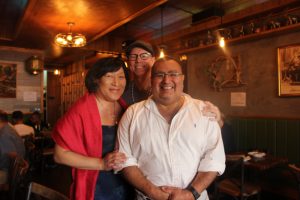 I hadn't seen Jeff Anderson since he first came to Queens way back on 30 May 2010 when I gave him and other staff and students from the University of Minnesota's GLBTA Programs Office a walking tour of Jackson Heights before decamping to Queens Pride House to talk to them about my work there; so I was delighted to be reunited with Jeff and to meet his partner, Leo Guzman, and share lunch with them at Ayada in Elmhurst.
9.29.19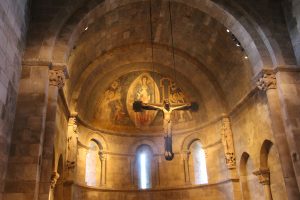 On Sept. 29, Charlie, Michael and I drove from Queens to Fort Tryon Park in Manhattan to attend the Medieval Festival; Michael had never been to Fort Tryon Park or the Cloisters and I was delighted to give him a tour of the Metropolitan Museum's extraordinary museum of medieval art; afterwards, we drove back to Queens to have dinner at an Indian restaurant in Jackson Heights with an all-you-can eat buffet and I did~!
9.25.19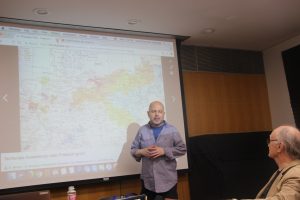 On Sept. 25, I had the second session of the conversation course on the history of Berlin; Uwe led an interesting discussion of developments in the 17th and 18th centuries that led to the growth of the Prussian capital; afterwards, I went shopping at a health food store in the Village.
10.9.19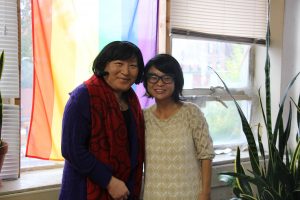 On Sept. 9, I met Crystal Baik at Queens Pride House for an interview for her oral history project; Crystal is on the faculty at the University of California at Riverside and is using the project to show the diversity of the Korean American community; we followed up later in the month with a phone interview.
10.10.19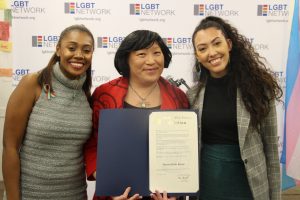 On Oct. 10, I attended New York State Assembly Member Brian Barnwell's National Coming Out Day event at the Q Center in Long Island City and accepted a proclamation from his office recognizing Queens Pride House for the work we do on behalf of the LGBT community of the borough.
10.15.19
On Oct. 15, I attended a talk that Sa'ed Adel Atshan gave at Columbia University based on his book about the pinkwashing of Israeli occupation and apartheid; Sa'ed is now tenured on the faculty of Swarthmore College; when I first met him, he was the deputy tour leader of the first US LGBTQ delegation tour of Palestine, which we both participated in back in Jan. 2012, and I was delighted to see him again and hear about his new book.
11.22.19
On November 22, I attended a meeting of the new API community-based coalition organized by Red Canary Song to advance legislation that would decriminalize sex work under New York state law.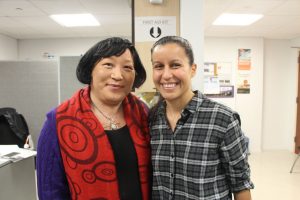 One of the special guests was Tiffany Cabán, whom I endorsed for district attorney of Queens County; Tiffany won the Democratic primary in June but Melinda Katz — the outgoing Queens borough president and the Democratic Party machine's candidate for DA — was able to use technically legal means to overturn the election, which only confirmed the wisdom of my endorsing Tiffany for DA.
10.24.19
Queens Pride House transgender support group
10.26.19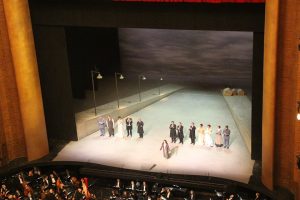 On Oct. 26, I saw "Manon" at the Metropolitan Opera with Greg and Stephanie; afterwards, Winston joined us for a wonderful Chinese dinner at Shun Lee West. Lisette Oropesa and Michael Fabiano were both exceptionally good in Laurent Pelly's superb production of "Manon," one of the best productions I've seen at the Met in the last decade; I'd seen Pelly's production of Massenet's Cinderella opera "Cendrillon" with Greg back in April 2018 and that, too had been superb.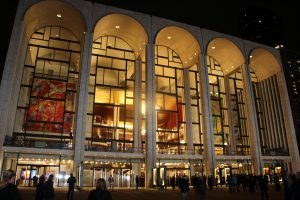 10.30.19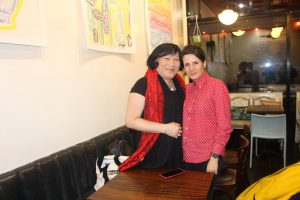 Patricia Silva gave a fascinating presentation on LGBTQ sites in Queens at Queens Pride House; afterwards, we went out with her friends Amita and Ines to Espresso 77 for an interesting chat.
11.6.19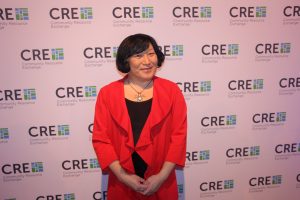 I was honored to be recognized as one of 40 'trailblazers' doing non-profit and social justice work in New York by Community Resource Exchange at CRE's 40th anniversary event in Manhattan.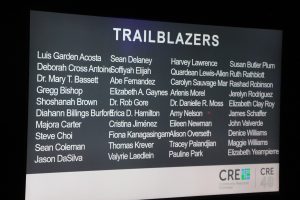 I was honored to be in such distinguished company among those recognized as 'Trailblazers' at the event in Chelsea.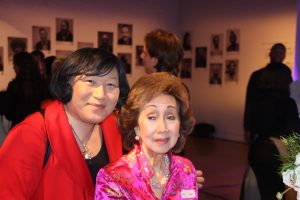 I was delighted to see Jean Lobell there; Jean is a senior staff member at CRE and worked with the Queens Pride House board of directors on board training several years ago.
11.8.19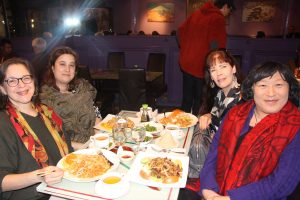 After stopping by the offices of a lawyer in Manhattan late on the afternoon of Nov. 8, I went to Royal Siam for a wonderful Thai dinner with Deborah, Margaret and Charlene.
11.9.19
I had lunch in Manhattan with my friend Andrea on Nov. 9.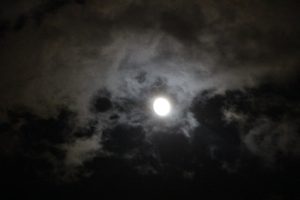 Heading home, I saw the most extraordinary moon wreathed in clouds above Manhattan; this shot was taken from 6th Ave. and 21st St.
11.14.19
I facilitated the November meeting of the transgender support group at Queens Pride House; we had a dozen members; on this occasion, we had to take refuge in the lounge because the library was too cold; there was no heat at Pride House, so we installed a space heater in the lounge to keep us warm. After the meeting, we went out to Afghan Kebab House on 37th Ave. and had a great chat over dinner.
11.18.19
2019 was the year of dental crisis and perhaps the most dramatic moment came on Nov. 18.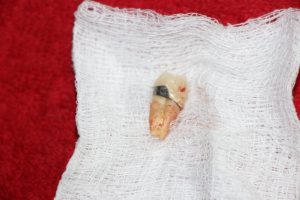 I had to have a tooth removed by an oral surgeon. I had had an extraction two years before and while this one was painful, it was less traumatic than the previous one; still, it cost me a fortune and created a huge gap in my teeth, to be closed by an implant and a crown in 2020.
I was recovered enough by evening to take the subway to Brooklyn for a film screening and panel discussion on Korean adoption sponsored by Also-Known-As. I sat quietly in the back of the room until then end, when I responded to a call for last questions and comments from documentarian Dolly Li with a comment of my own about my trip to Korea in 2015; my comment actually drew applause and an especially enthusiastic response from  the friend of a friend, who introduced himself to me afterwards; I stayed at Open 61 to chat with participants as well as Dolly Li and Michael Mullen, the president of AKA, who with Dolly Li, Peter Robinson and Rebekah Mason.
11.30.19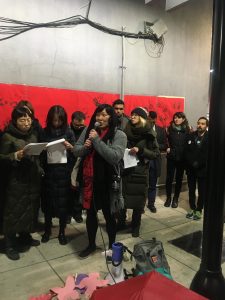 I was honored to be invited to speak at the vigil on Nov. 30 for Song Yang, the Chinese migrant woman murdered by the NYPD in 2017; I joined the coalition organized by Red Canary Song that's fighting for decriminalization of sex under New York state law; we stood in the cold from 3-6 p.m., but that was nothing compared to the suffering that the police subjected Yang Song to, and I was proud to be able to join others in demanding justice for Song Yang and advocate for migrant workers as chair of the New York Association for Gender Rights Advocacy (NYAGRA) and president of the board of directors of Queens Pride House.
12.3.19
On Dec. 3, I spoke in Prof. Jean O'Malley Halley's feminist theory class at the City University of New York (CUNY) Graduate Center; we had a great discussion about LGBT activism and the pursuit of social justice. Afterwards, Jean and I met her son Isaiah at a restaurant on Park Ave. and shared a wonderful gourmet vegetarian Korean dinner together.
12.12.19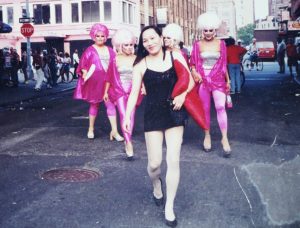 On Dec. 12, I posted an old photo on Facebook for  'Throwback Thursday'; it's actually the photo of a photo taken back in 1996 or 1997; I was surprised that it earned 312 'likes' or 'reactions' and 31 comments.
12.14.19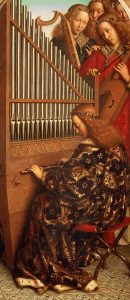 I led discussion of Vladir Jankelevitch's essay, "Music and the Ineffable," at the December meeting of the NYC LGBT Philosophy Forum; we had 15 in attendance, which is a very robust number for our group.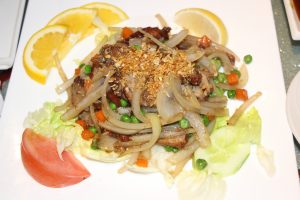 Afterwards, 11 of us decamped to our favorite Thai restaurant in Chelsea for dinner; a few of us stayed for a discussion long after finishing dinner; we talked about everything from the history of capitalism to the 2020 Democratic presidential candidates to our favorite operas; Joe and I then took the train back to Jackson Heights where we went grocery shopping together; it was a very full day. 
12.16.19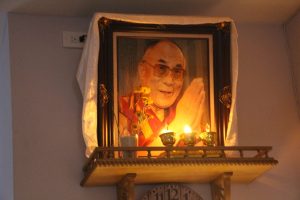 I had momo and shrimp tempura at a Tibetan/Japanese restaurant in Jackson Heights and had a nice chat with Ernst, who as it turns out is of German descent on his father's side and Norwegian descent on his mother's side — the opposite of my parents' genealogy. I noticed a portrait of the Dalai Lama in the restaurant and Ernst encouraged me to get a good photo of it; I remarked that a portrait of the Dalai Lama would not be seen in Tibet, given the PRC regime's pursuit of cultural genocide there. After dinner, I went to the health food store in the neighborhood to stock up on bulk.
12.21.19
Rich invited me over to his place in East Elmhurst for his annual winter solstice party I had a wonderful time chatting with friends old and new; there was one small shock there when I ran into someone who I was not happy to see, but the rest of the evening went swimmingly.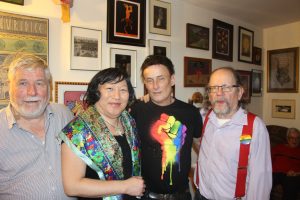 12.24.19
I made dinner for Winston & me on Christmas Eve and we shared the wonderful apple pie and the bottle of wine  he brought along with him, a wonderful Riesling from upstate;  we had a long chat about all sorts of things  and after dinner, I played some Bach and sang and played Schubert as well as Christmas carols (including "Es ist ein Ros entsprungen) and a few Broadway show tunes as well ("Have Yourself a Merry Little Christmas" from "Meet Me in St. Louis" and "There Was You" from "The Music Man").
12.25.19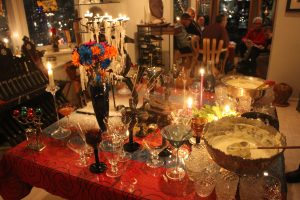 I went over to Richard and Paul's in Manhattan for Christmas dinner and had interesting conversations with Bruce, James, Massimo, Gordon and others; we had a wonderful dinner with turkey, beef, pasta dishes and a superb blueberry pie.
12.26.19
On the day after Christmas, I went over to Queens Pride House and had an interesting conversation with Daniel while waiting for Michael to meet me there; he and I went to La Boina Roja on 37th Ave. in Jackson Heights for lunch; I rarely eat meat, but it's a steakhouse, so I had a steak that was so large that I took most of it home with me as leftovers.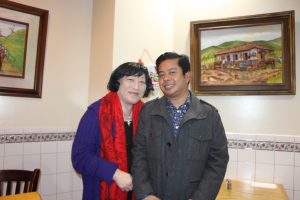 In the evening, I facilitated the transgender support group at Queens Pride House; afterwards, Sara and I went out to dinner at Dhaka Garden, a Bangladeshi restaurant on 37th Ave.
12.28.19
On Saturday, I went to Leslie Cagan's in Elmhurst for a wonderful party; there must have been over 50 people in her capacious apartment and I was delighted to see people I hadn't seen in a long time, including lesbian activists Jackie Rudin, Naomi  Brussel, Joyce Ravits and Terry Boggis, among so many others.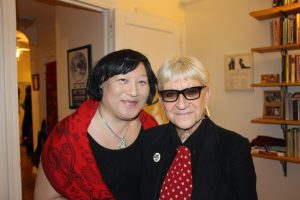 I met several new people, too, including Warren Lehrer (Brian Lehrer's brother) and Judith Sloan, who very kindly gave me a ride back to Jackson Heights.
12.29.19
Charlene invited me over to her place in Greenpoint (Brooklyn) for a nice little holiday dinner party with Deborah, Wendy, Margaret and Larry.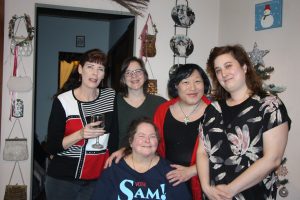 We had a wonderful vegetarian dinner and a nice chat about everything from star (celebrity) sightings in New York to the challenges and complications of doing genealogy (German, Jewish and otherwise).
12.30.19
I did a training for a candidate for elective office on the evening of Dec. 30.
12.31.19
I did not have any desire to stand in a holding pen in Times Square in the cold for 14 hours peeing and pooping in an adult diaper.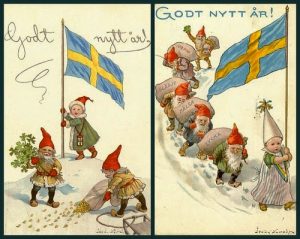 I stayed home on New Year's Eve and practiced piano and then finished my 2019 retrospective while watching Fred Astaire and Ginger Rogers dance across the screen in "Top Hat" and "Following the Fleet."