Bernie Journey: Iowa 2020
by Pauline Park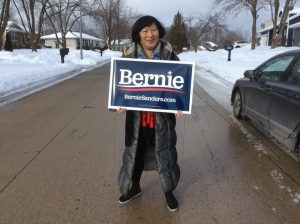 I had never canvassed for a candidate for office before flying out to Iowa in January 2020 to canvass for Bernie Sanders in Iowa; my Bernie Journey started out when Natalie James posted on the Facebook page of the New York City Democratic Socialists of America (NYC DSA) Queer Caucus encouraging members to join her in Iowa to get out the vote for Bernie. I posted the announcement on my page and then 
Friday, Jan. 24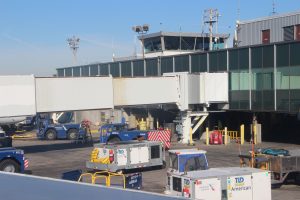 My Bernie Journey began with a bus ride to La Guardia; the felicitous coincidence was that Natalie James was on the very same bus. I mentioned to Natalie that I had a long layover at O'Hare between my flight to Chicago and my flight from Chicago to Des Moines and she suggested that I check to see if there was an earlier flight to Des Moines once I arrived at O'Hare. I arrived at the gate more than an hour before boarding, which gave me time to buy some water before getting on the plane. I got a good nap on the flight to Chicago and when I arrived at O'Hare, I discovered that there was an earlier flight to Des Moines; if that earlier flight hadn't been delayed and my flight from La Guardia, it would not have been possible to catch the earlier flight to Des Moines and in fact, I had to scurry to the gate and only arrived just in the nick of time to catch it. Because I caught the earlier flight, I arrived in Des Moines around 6 p.m., more than two hours earlier than I would have arrived on my scheduled flight and minutes before Natalie arrived, which allowed us to drive out of the airport together in the car she rented.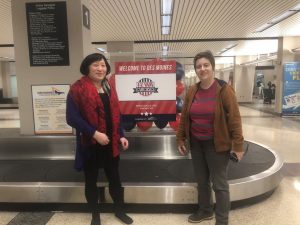 We noticed signs in the airport welcoming those coming to Iowa for the caucuses and I suggested that we get a photo in front of one of the signs sitting atop one of the baggage carousels; a young local very graciously agreed to take a photo of us and I posted it on my Facebook page, attracting some comment and quite a few 'likes.'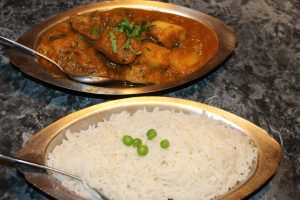 Natalie drove me to my hotel, where I checked in; we then went to the India Star, a wonderful immigrant family-owned and operated restaurant in Des Moines where we enjoyed a wonderful Indian dinner, the first of several good meals I had while in Iowa; the surprise was that I didn't have a single bad meal while in Iowa. Natalie then drove me back to the Holiday Inn Express downtown and I did my best to try to get a good night's sleep in an unfamiliar bed with somewhat inadequate pillows.
Saturday, Jan. 25
On my first morning in Iowa, Natalie picked me up at the hotel with Devin Maxime. Devin lives in Astoria and I live in Jackson Heights.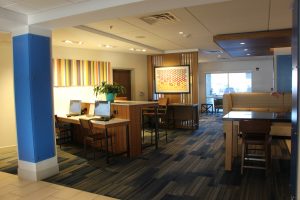 We then drove off to campaign headquarters, which was located on Tuttle Street only about half a mile from the hotel; when I booked the new Holiday Inn Express downtown, I actually had no idea it was so close to the Bernie Sanders campaign office in Des Moines; but it turned out to be a fortuitous coincidence.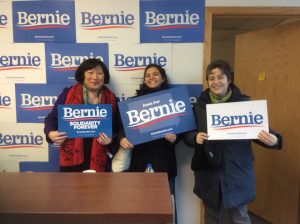 We had a nice chat with Clarke Sondermann and another campaign staffer and I suggested that Devin, Natalie and I get a shot of the three of us in the campaign office; when I posted the photo to Facebook, it got 61 'likes.'  After getting campaign literature, signs, buttons and stickers at campaign headquarters, we drove to a union hall in Des Moines where the constituency teams were meeting. Natalie and Devin joined the LatinX team while I joined the Asian American and Pacific Islander (AAPI) team.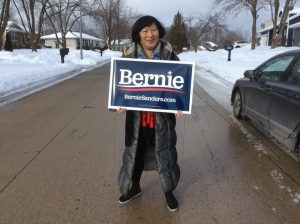 Phouthasack Keopraseuth and I spent the afternoon together canvassing API households, most of them Lao speaking; Phouty was born and raised in Des Moines, the child of immigrants and perfectly bilingual in Lao and English and it was great canvassing with him. Bernie Sanders is actually the first candidate I've believed in enough to want to canvass for and the only one I'd consider flying out to Iowa in January to canvass for. When I posted this photo of me holding a Bernie sign that Phouty took of me in the middle of the road, it got 133 'likes' on Facebook and 17 comments, perhaps an indication of how my Bernie Journey resonated with people on Facebook and Twitter and beyond.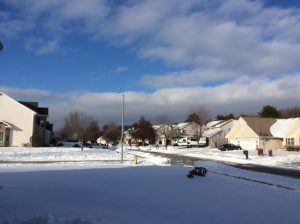 It was cold and gray most of Saturday, but by late afternoon, the sun finally came out. After canvassing in the cold for about three and-a-half hours with Phouty, he dropped me off at the hotel, where I took a much-needed nap. Natalie and Devin came by to the hotel to pick me and we drove up to Ames to see Bernie Sanders; on the way, we stopped at Fuzzy's for Mexican food, which was actually quite good.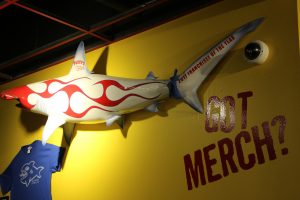 And the decor was whimsical. And the glasses of beer were enormous.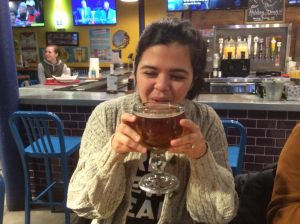 Unfortunately, our stop delayed our arrival in Ames, so by the time we got to the hall where Bernie was speaking, the hall was full and we were shepherded into an overflow space in the gym with audio but no video. Alexandria Ocasio Cortez (my member of Congress) was speaking. Natalie, Devin and I were crestfallen, though they had seen him live before and I had not, so I was especially disappointed.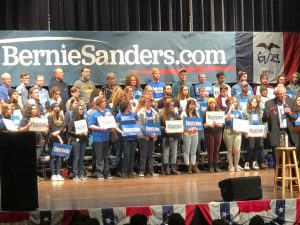 I had to go to the loo and on my way to the women's room, I realized that we could sneak into the big hall if we wanted to, given that some people were leaving; I told Natalie and Devin that and we were able to push ourselves (ever so gently) into the big hall to hear Bernie; it was a thrill to see him live for the first time and we drove back to Des Moines elated.
Sunday, Jan. 26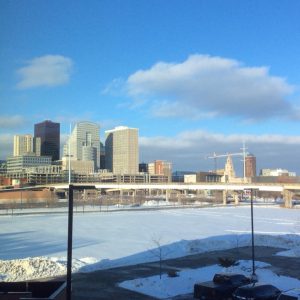 On Sunday morning, Natalie and Devin drove to the hotel to meet me; they were joined by Annie Levin. Natalie and Annie live in Brooklyn — so the two big outer boroughs were both represented on our team. Natalie, Devin and Annie brought their breakfast with them and ate it in the breakfast room of my hotel.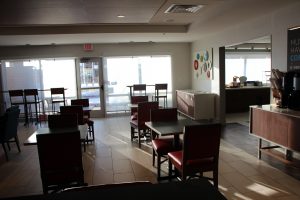 We then drove to campaign headquarters on Tuttle Street, where Annie pointed out a bumper sticker on a car in the parking lot that read, "I'm pro-opera and I vote!" The four of us divided into two teams to canvass in Des Moines, Natalie and Devin partnering and Annie and I working together on our first 'turf' — campaign lingo for a list of voters whose doors we needed to knock on. Annie handled the MiniVan app, entering the data on her cell phone while we canvassed large apartment buildings on the edge of town.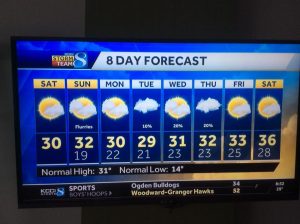 Canvassing in Iowa in January is a challenge in many ways, not least the weather; we had snow and slush to deal with as well as temperatures below freezing on every one of the seven days I canvassed. On every day I canvassed, the majority of people were not home and a majority of those who were had no interest in the Iowa caucuses. Some were undecided and it was curious to find people undecided not just between Bernie Sanders and Elizabeth Warren but between Sanders and Joe Biden or Pete Buttigieg. There were two really unanticipated but happy incidents that occurred on Sunday.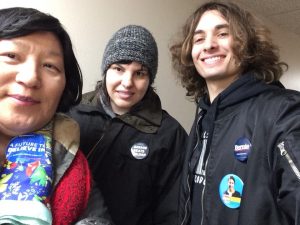 First, we ran into a young man named Devin who lived in one of the apartment buildings we were canvassing; Devin was a huge Bernie fan himself and was planning on canvassing for him later that day; he invited Annie and me into his apartment and even offered us apple juice; it was fortuitous, as Annie was able to use his bathroom (a serious concern while canvassing).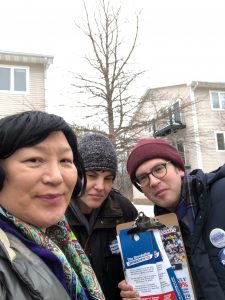 The second unanticipated development came about because the MiniVan app's map led us astray as we searched for two buildings in the area; while doing so, we ran into Jake Kline, an American who grew up in Alaska and Michigan but has lived in Berlin for many years now; he was surprised and delighted to discover that I spoke German and was involved with music and we spoke a bit of German before deciding to finish off our 'turfs.' We met up shortly afterwards and he drove us back downtown. I desperately needed a nap, so I retired to my hotel room to recharge my body as well as my cell phone.
On Sunday evening, Annie, Jake and I went out to dinner along with two other volunteers canvassing for Bernie in Des Moines. Nut Pog is a wonderful Lao restaurant and the first I had ever dined in; not only was the food superb and the conversation engaging, it turned out that Bernie himself had eaten there earlier on in the month. Benjamin and Thomas joined us. Ben, who came with Annie and Jake when they picked me up at the hotel, lives in Jersey City. Thomas grew up in St. Paul  next door in Minnesota but now teaches at the University of Sydney in Australia and spends part of every year in New Orleans; it turned out that he and I had a mutual friend in common.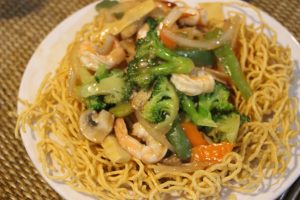 We had to wait a while for service because the restaurant was understaffed that night, but once the food came, it was a real feast; I'd never had Lao food before, so it was a delightful new culinary experience. Over dinner, we talked about the campaign, about Elizabeth Warren's betrayal of Bernie, and about the relative strengths and weaknesses of the other candidates. After dinner, we spoke with a woman who apparently owns the restaurant and she was delighted to inform us that Bernie had actually dined there recently.
Monday, Jan. 27
On Monday morning, I managed to miss breakfast because I thought it was still available until 10 a.m. but it actually finished at 9:30 a.m.; and I accidentally left my down overcoat in my room and had to go back upstairs to retrieve it after Natalie, Devin and Annie came to pick me up. We had lunch at a Greek restaurant in Des Moines before driving out of town.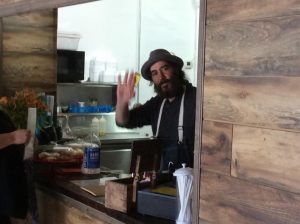 Gazali's is an immigrant family-owned and -operated Mediterranean restaurant with wonderful food; I had a falafel burger, which was delicious; just before we left, I had a chat with MJ, the co-owner and co-chef; when I asked if he was Greek, he said that he was Lebanese, so I told him about my participation in the first US LGBTQ delegation tour of Palestine and also told him that the four of us were headed out of town to canvass for Bernie.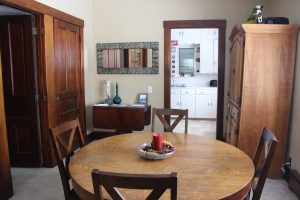 We drove up to the town of Paton in Boone County, a village, really, with just 250 people. The house Natalie found for us looked like a 19th c. farmhouse; the initial challenge was getting the wi-fi to work, which was crucial, since the phone was restricted to local calls, meaning that without wi-fi, we'd be cut off from the outside world.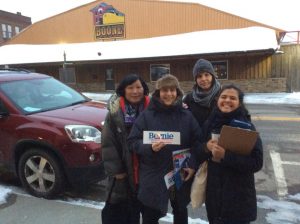 After unpacking and checking in with Julie, the woman who maintains the house, we drove into Boone to meet with William, the director of the campaign office in Ft. Dodge. I had a cute little Dutch wheel pastry at the Dutch Oven Bakery on Story St. as we discussed canvassing in Boone County.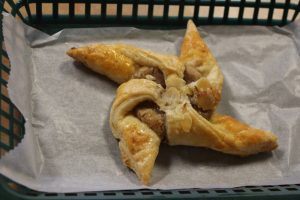 William gave us 'turfs' and we broke into two teams, with Natalie and Devin taking one turf and Annie and me taking another. The turf Annie and I took was somewhat 'walkable' but it was difficult: it was cold and dark by the time we started and there were areas without shoveled sidewalks or sidewalks at all. The part of Boone that we went knocking on doors in was a mix of different kinds of houses, a few more solidly bourgeois and others less so; some areas we canvassed in seemed almost abandoned; and we ended up on an industrial road that felt like it was in the middle of nowhere. Annie and I were taken by a huge silo that looked extremely Mordor-like in the gloomy darkness.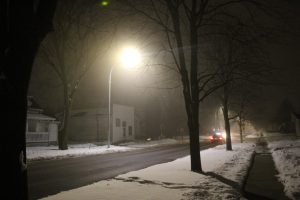 Annie and I managed to finish our turf after a few hours, by which point my feet were freezing. As with all of the turfs I would do in Iowa, more than half those whose doors we knocked on were not home at all; at least half those we reached were turned off of politics and tuned out and not interested in discussing the Iowa caucuses with us; a few seemed genuinely undecided between or among candidates and a few were committed to Bernie Sanders; it was these confirmed Bernie commitments that made the effort feel worthwhile.
The strangest sight Annie and I came across was a grain silo on the edge of town that struck me as something out of J.R.R. Tolkien's Mordor.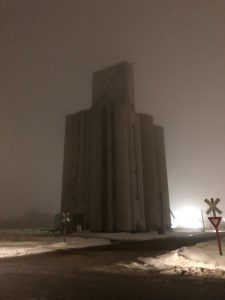 I called Natalie and Devin, who had finished their turf, and they came and picked us up. We had just enough time to drive back to Paton to have dinner at the only restaurant in town, which fortunately was a good one. Annie and I agreed that the salad bar was pathetic, but we all found the food that we ordered surprisingly good. I had salmon and green beans and ordered some onion rings for all of us to share. In the course of dinner, Annie and I discovered that we both had a great love for "L'Agneau Mystique," the Ghent Altarpiece of Jan and Hubertus Van Eyck that is the supreme masterpiece of Northern Gothic oil painting.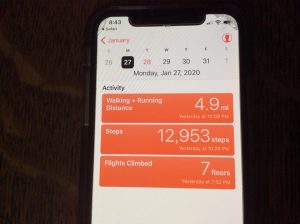 By the time we got home, we were all exhausted and ready for bed; it was only when I checked the 'health' app  on my iPhone that I realized that I'd walked 4.9 miles that day and had taken 12,953 steps.
Tuesday, Jan. 28
I woke up on Tuesday morning, having gotten something like six hours' sleep; it wasn't quite enough, really, but the bed was surprisingly firm in any case, and I felt lucky to have what seemed to me to be the nicest room in the house. I made Egyptian licorice tea from a tea bag I'd brought from home and shared it with the others; neither Natalie nor Devin had ever had licorice tea and they both enjoyed a cup of it. Unfortunately, Devin was absolutely exhausted from the previous days' exertions, so she very prudently stayed at home on Tuesday to recover from a cold and what seemed to be the flu.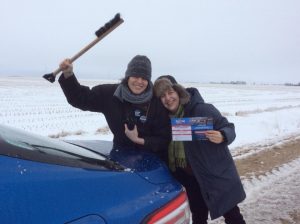 As soon as we were all ready, Natalie, Annie and I hit the road, driving to Fort Dodge for to meet with Ian, who worked with William in the Sanders campaign office there. On the way there, we stopped to take a few photos with the backdrop of the gigantic wind turbines that captured our imagination and the bleak wintry landscape of central Iowa in January.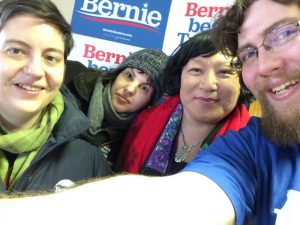 Natalie, Annie and I met with Ian in the Ft. Dodge campaign office and then drove to the campus of Iowa Central Community College, where we canvassed at the entrance to the cafeteria and then had lunch inside; Natalie marveled at the range of choices and how good the food was and it was a pleasant experience except for a group of white male students, one of whom sneered at our campaign literature, saying, "Oooh, Bernie Sanders in a sarcastic tone." We suspected they were Trump supporters.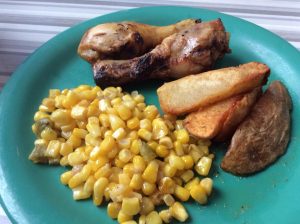 We then canvassed a student lounge in the student union and found that most of the students there like most of the Iowans we met were not actually very interested in the Iowa caucuses and only a few were knowledgeable about them. One of the white male students in the lounge was torn between Pete Buttigieg and Andrew Yang; a few expressed interest in other candidates; one African immigrant (perhaps of Somali origin) expressed support for Bernie.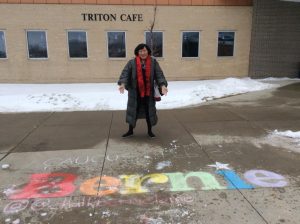 I noticed a colorful 'Bernie' stencil outside the Triton Café and pointed it out to Natalie and then to Annie;  I took shots of them with it and had Natalie take a shot of me standing next to it. After lunch, we drove back to the Fort Dodge campaign office just down the street, I noticed some stuffed animals in the window of a dog grooming store, which brought the song "How Much is That Doggie in the Window?" to mind.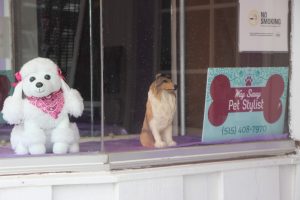 In the campaign office in Fort Dodge, we got 'turfs' for Jefferson, a town in Green County with just 4,345 (according to the 2020 US Census), by far the smallest of the cities and towns I canvassed in for Bernie in Iowa. Natalie, Annie and I each took a turf in Jefferson, which was the only time I canvassed entirely on my own, and it was extremely challenging trying to do the turf on my own, including using the MiniVan app all on my own as well as doing the door knocking. 
Fortunately, we arrived in Jefferson shortly after 5 p.m., so I had more than an hour of daylight before the sun went down; and just as fortunately, most of the houses on my turf were relatively concentrated; but it was still confusing trying to use the map connected with the turf, which was unclear at times and even occasionally inaccurate. And as on previous days, it was below freezing (32F) the entire time and sunk into the 20s after dark, so my hands got cold despite gloves because I had to keep on taking them off in order to use the app. The worst was cold feet, which was almost unavoidable given the temperatures, though the shoes I was wearing were not ideal for the purpose at hand.
There was one magical moment in the midst of that dreary night: after darkness fell, I was walking down a little cul-de-sac only to see half a dozen deer bolt out in front of me and cross the road; they ran across the road so quickly that I didn't even have time to pull out my camera to try to get a shot of them; but I still have the image in my mind of their quiet, febrile beauty…
Natalie and Annie were able to finish their turfs; unfortunately, I was unable to finish mine, though I got through more than half the addresses on the list; when they finished their turfs, they came and picked me up in front of the last house I was able to canvass — which actually belonged to a professional landscaper who ran his business out of his medium-sized and rather nice house.
By that point, my feet were freezing and all three of us had been canvassing for hours so we were all ready for a good dinner. Natalie found a Mexican restaurant — which was apparently the only decent restaurant in town; fortunately, the food at La Casa d'Oro was wonderful; I had tilapia with refritos and Spanish rice — and the leftovers were ample enough to provide two more dinners later in the week.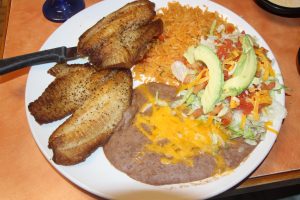 When we got back to Paton, I checked my iPhone and discovered that I'd walked 5 miles that day, most of it canvassing for Bernie.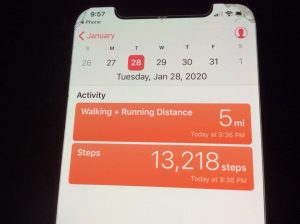 Wednesday, Jan. 29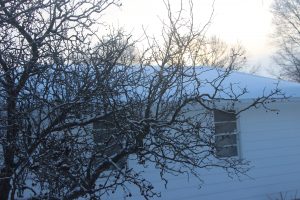 We awoke on Wednesday morning to a cold but beautiful dawn in Paton, put ourselves together, had a somewhat hasty breakfast and packed; we were able to get out of the house by 11 a.m.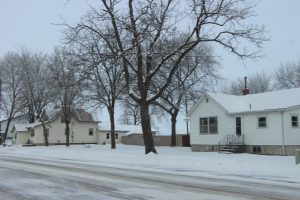 As we were driving out of Paton, I heard something fall from the roof of the car; we stopped and saw that it was the ice scraper that came with the rental car; we retrieved the scraper and left Paton, Annie saying she thought it was unlikely we'd ever seen the town again.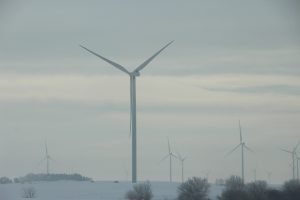 We passed the giant wind turbines outside Paton for the last time as we drove toward Des Moines. Natalie and Annie were flying out later that day, while Devin and I would stay on. Devin found Mary Ellen through Carissa (the lead organizer of the New York City contingent who herself grew up in Iowa) and Mary Ellen very graciously consented to put me up as well. We arrived just as six volunteers were leaving Mary Ellen's house in Des Moines; five had already departed and one was getting ready to head out; he agreed to take a shot of Annie, Natalie, Devin and me as our cell was about to break out; after kisses and hugs, Natalie and Annie drove away and Devin and I had a nice chat with Mary Ellen.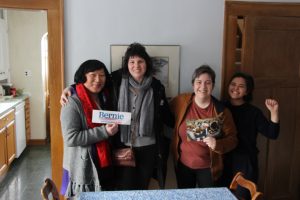 Devin and I were actually quite tired from the previous four days of canvassing and decided to take an 'art break.' I suggested we go to the Des Moines Art Center, which I'd visited on my first trip to Des Moines back in Nov. 2009; it's a nice little regional art museum with a few real masterpieces in its collection, including a wonderful Edward Hopper ("The Automat," 1927).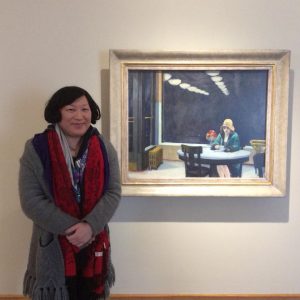 The Des Moines Art Center has a study by Paul Gauguin, sculptures by Alberto Giacometti and Pierre Auguste Rodin, a portrait by Francisco José de Goya y Lucientes, a landscape by Childe Hassam, an abstract by Paul Klee and a portrait by Henri Matisse ("Dame à la Robe Blanche," 1946) as well as a superb  sculpture by Constantin Brâncuși ("Maiastra," 1912-1913), one of my favorite sculptors of all time.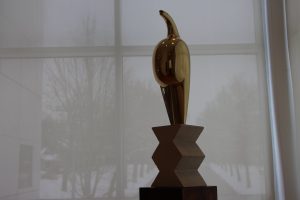 And from the window of the museum, I could look out and see the most interesting sculpture in the museum's collection, "Animal Pyramid" by Bruce Nauman (1990), which was my most vivid memory of my first visit to the Art Center.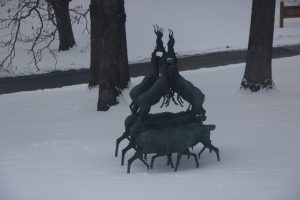 I was delighted to see that the museum had a gender-neutral restroom; every public facility should~!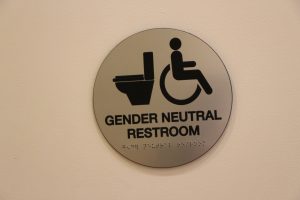 On our way out of the museum, Devin and I renewed our conversation with the staff (whom I'm tempted to call 'the Three Ladies,' though unlike the characters in "Die Zauberflöte," they weren't working for an evil queen, at least as far as I know).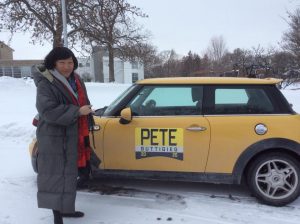 On our way out, I noticed a Mini Cooper with a big Pete Buttigieg sticker emblazoned on the door on the driver's side of the car; and I saw lots of 'Pete' signs on lawns in Des Moines while I was there. Devin and I decided to walk back to Mary Ellen's and on the way, stopped off for lunch at Louie's Wine Dive, which contrary to its name wasn't in the least bit 'dive-y'; in fact, it was very upscale and I had a wonderful basket of fish & chips while Devin had a plate of roasted Brussel sprouts.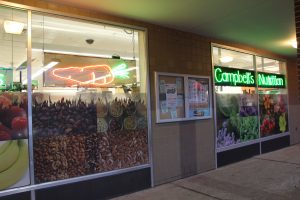 We noticed a health food store in the same mall and went in to buy some groceries; it was a very large and commodious health food store with a really good selection of food; most intriguingly, there was a board next to the check out where we could donate a small fraction of our tab to a charity of our choice from a list of local charities.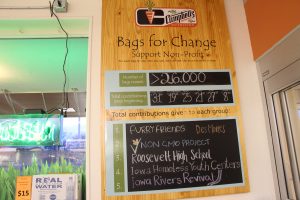 I donated my token to the Iowa Rivers Revival.
Thursday, Jan. 30
Devin and I resumed our canvassing for Bernie on Thursday and we were joined by Quinn from Sunnyside (Queens) and Jake from Berlin (by way of Alaska and Michigan). While we would have saved gas by taking one car, I suggested we take two because we could cover much more ground that way and that proved to be the right decision, because we could not have done half of what we did without two vehicles, given the distances involved. We drove nearly two hours to Marshalltown, which is northeast of Des Moines; once there, we met with Holly, a Chinese American field organizer from Brooklyn, who gave Devin and Quinn one 'turf' and Jake and me another.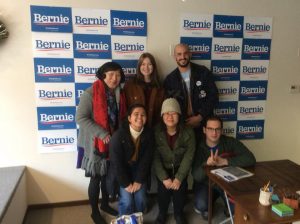 The first day of canvassing in Marshalltown, Jake and I canvassed in a relatively affluent area of town; the ranch-style houses were for the most part not large but tidy and well-tended and the area we were in had a very bourgeois feel about it.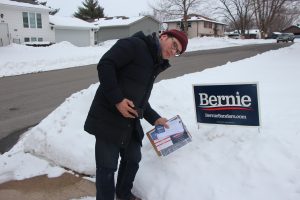 After three and-a-half hours of canvassing in the Iowa January weather, my hands were cold and my feet were freezing.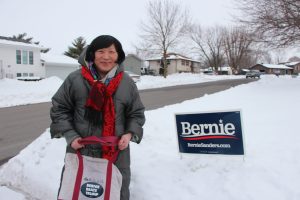 Jake and I were happy to finish our turf and report our results to Scott, Dmitri and Holly, who were running the field office in Marshalltown; they were happy to have us volunteering for the campaign in a city which needed more volunteers and they recommended a Chinese restaurant just down the street for dinner.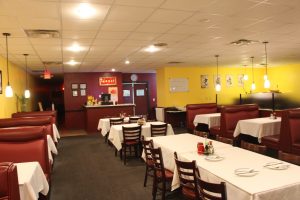 'Ocean City' is an odd name for a restaurant in a town in Iowa that could hardly be farther from either the Atlantic or the Pacific, but to our surprise, the food was superb and Jake, Devin, Quinn and I thoroughly enjoyed sharing it all.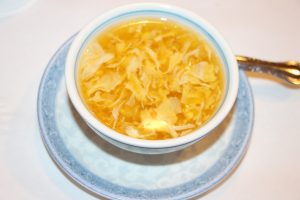 In fact, we ordered so much that I took some home in a doggy bag; and Scott popped in to pick up some food for take out while we were dining. We drove back to Des Moines feeling satisfied with having done our job and Jake and I had a great chat on the drive home.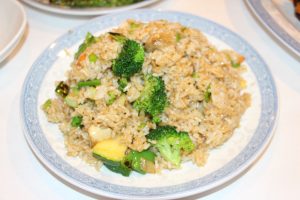 Friday, Jan. 31
On Friday morning, Jake came by to pick me up and we drove out to Marshalltown for our second day of canvassing there; but unlike the previous day, the neighborhoods we canvassed in were anything but bourgeois; there were streets with houses that were dilapidated and some were in such dreadful shape that I felt felt genuine pity for those who were living there.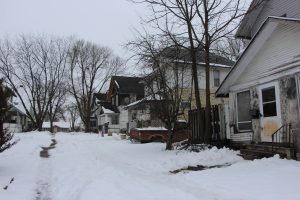 We knocked on the door of one house in Marshalltown and a young man who looked to be in his late 20s or early 30s answered the door with a baby in his arms; he seemed to be missing some top teeth and seemed self-conscious about that. It was fairly obvious from his house that he was working poor so I was a little bit surprised that he said that climate change was actually his top issue; I pointed out that Bernie's Green New Deal showed his commitment to tackling the climate crisis and he seemed persuaded.
We knocked on the door of another house to find another father (who appeared to be perhaps in his late 30s or early 40s) who strongly supported Bernie but had two toddlers at home and did not want to entrust them to a babysitter; he also thought they were too rambunctious to bring to a caucus, which spoke to Phouty's argument that the caucus system disenfranchised a lot of people by excluding those who had child care issues or who worked late.
We found a number of Latinos and Latinas in the houses we canvassed and got firm commitments from a few of them to caucus for Bernie; one Latina, however, was torn between Bernie and Pete Buttigieg. After three hours of canvassing, Jake and I were both getting a bit chilled and my feet were freezing, so we stopped off at a restaurant to have a snack.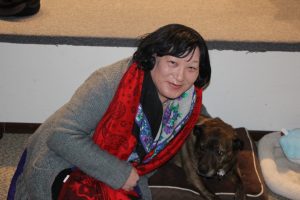 We then went back into the cold and spent another hour canvassing in the dark. We were happy to be able to finish our turf and report back to the campaign office in Marshalltown; we ended up staying and having an interesting chat with the campaign staff; I had a long chat with Scott and Dmitri about the campaign and the prospects for Bernie and his rivals; Dmitri predicted (quite presciently, as it turns out) that it would come down to a two-person race between Bernie Sanders and Joe Biden. Jake and I drove back to Des Moines and I had a nice chat with Mary Ellen when I got in while warming up leftovers from la Casa d'Oro.
Saturday, Feb. 1
I had no access to a car on the Saturday before caucus day and there were so many volunteers pouring into Iowa that there were no 'turfs' left to canvass in Des Moines either Saturday or Sunday; I heard from one of the organizers in the West Des Moines office that some 10,000 volunteers flooded in from all over the country to canvass for Bernie that last weekend. 
Mary Ellen was planning on going to "Come From Away" at the performing arts center downtown and invited me to go with her. We drove downtown and I bought a ticket in a different part of the theater from Mary Ellen's; we had a little time before the musical started to walk around downtown Des Moines; the gold leaf-covered dome of the state capitol was gleaming in the sun.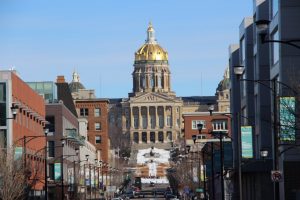 We walked along the river, which was sparkling in the bright sunlight.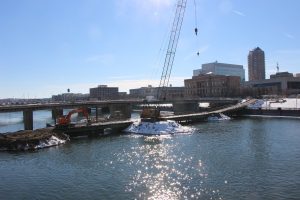 I thoroughly enjoyed the performance.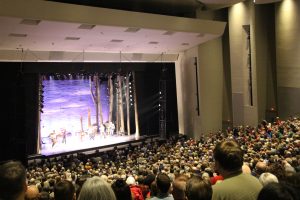 And I was tickled pink — maybe I should say 'tickled red' — as I saw a woman wearing a red hat and a red coat descending the stairs in the performing arts center, with its walls covered in red wallpaper.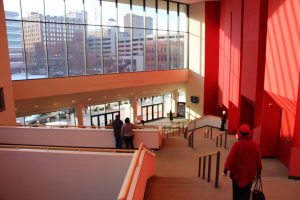 I was delighted to see a Bernie sign in the window of a café downtown.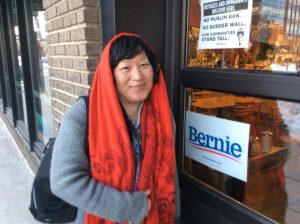 Before dinner, we explored the sculpture garden downtown before the sun set; then Mary Ellen and I went to Americano for dinner.
Sunday, Feb. 2
On Sunday, I watched Meet the Press, Face the Nation, ABC Sunday and CNN; it was really oddly surreal watching the Sunday morning talk shows in Iowa talking about the Iowa caucuses.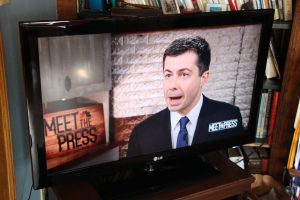 Mary Ellen asked me if I'd like to walk to the Franklin Branch Library with her and we had a nice chat on the way there and back.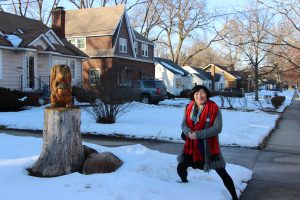 On the way, I noticed a rather large wooden sculpture of a squirrel in the front yard of a house and the owner of the house actually came outside and asked if we would like her to take a picture of us; now that's 'Iowa nice'~!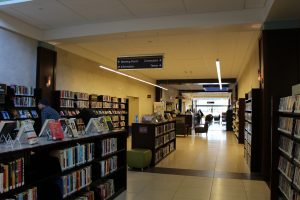 I was impressed by how well-designed and cozy the branch library was; there was even a working fireplace with two armchairs in front of it. There were some books on sale that the library was getting rid of and I picked up two for just a dollar: a biography of Hoagy Carmichael and a biography of an African prince sold into slavery.
Monday, Feb. 3
I called the West Des Moines office and was connected with Mark from Texas; a really nice guy who is planning to do a master's degree in social work, he picked me up at Mary Ellen's and we drove to a house in Urbandale in the western suburbs of Des Moines where we met with one of the field organizers there; he gave us each a 'turf,' but keeping in mind that Mark would have a car and I would be on foot, the organizer gave me a much more 'walkable' and compact one.
Since most of my turf was in just a few apartment buildings, I was able to get through the entire list except for one house in less than two hours. Mark's turf was so spread out, though, that he wasn't even halfway done when I called him to tell him I was on my last contact; it may be called 'Urbandale,' but given how thoroughly suburban it is, it should really be called 'Suburbandale.'
I helped Mark finish his turf and then we drove back into Des Moines; Mark dropped me off at Mary Ellen's as he had another commitment that afternoon; that gave me time to take a nap.
Tyler picked me up at Mary Ellen's and we drove to Grandview University for the satellite caucus organized and chaired by Phouthasack Keopraseuth.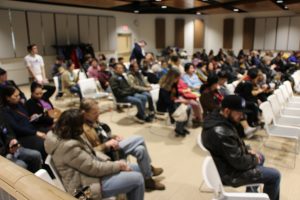 The caucus was fascinating. I obviously didn't participate as a voter since I'm registered to vote in New York and not Iowa, but Phouty invited me to volunteer to help him out with the caucus and I ended up taking photos of the caucus; as far as I could tell, I was the only one to do so, which Phouty appreciated, especially since this was a historic event as the first-ever caucus in Iowa intended specifically to enhance the participation of Asian American voters; the caucus drew 88 participants and the main business at hand of course was to register expression of presidential candidate preferences.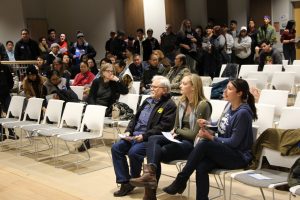 When the chair asked all those caucusing for Bernie Sanders to move to the right side of the room (his left), 74 of the 88 left their seats and went to the far wall; I knew in that moment that Bernie had won the caucus in a landslide; six went for Andrew Yang, three for Joe Biden, and two each for Elizabeth Warren and Pete Buttigieg; just one stood (or sat, as the case may be) for Amy Klobuchar.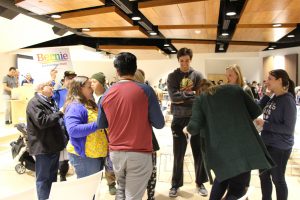 The chair determined that 15% of 88 was 14, so if the 14 people caucusing for a non-Bernie candidate had coalesced around one of those other four candidates, they would have won one delegate from the caucus; but the Yang Gang stuck with their guy and the people for Biden, Warren, Buttigieg and Klobuchar stubbornly stuck with their candidates, too; they had half an hour to come to consensus and the chair even offered them the option of voting for an uncommitted delegate, but no one budged and the chair declared Yang, Biden, Warren, Buttigieg and Klobuchar 'non-viable'; at that point, seven of the 14 joined the Sanders caucusers, bringing Bernie's total to 81 and winning him all of the delegates from the satellite caucus.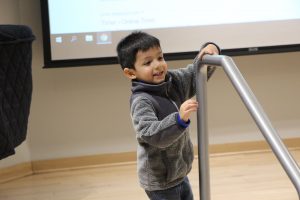 One of the issues around the caucuses is that they require at least an hour or two of time commitment and tend to exclude people who work late and/or have child care issues — a fairly compelling argument for eliminating the caucus system in Iowa going to a primary system like most of the other states.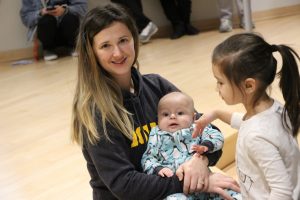 A few of the caucus-goers brought their children with them; but I remembered a man in Marshalltown whose door we knocked on; he was a Sanders supporter but he had two toddlers at home and did not want to trust them to a babysitter and thought they would be too rambunctious to bring along with him, so he ended up not caucusing, which showed precisely how the caucuses can exclude people who otherwise would like to participate in them.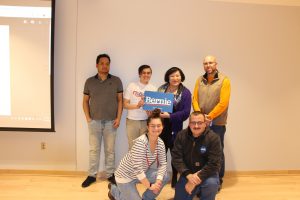 After the chair brought our satellite caucus to an end, he and Bob (the caucus secretary) tallied up the votes and tried to report the tally to the Iowa Democratic Party; but the notorious app failed to work and Phouty had to call twice and wait for quite some time before he could finally get through and report the results from our caucus. Phouty and I then drove to to the Holiday Inn at the airport for the victory party and I heard Bernie speak live for the second time.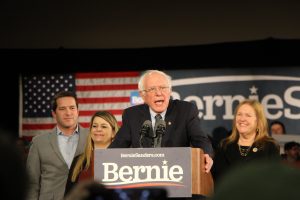 It wasn't for at least a few days that it became clear that Bernie had won more than 6,000 votes more than Pete Buttigieg, even though he immediately claimed victory in the Iowa caucuses with 0% of precincts reporting and created the narrative of a Mayor Pete victory with the willing collaboration of the mainstream media.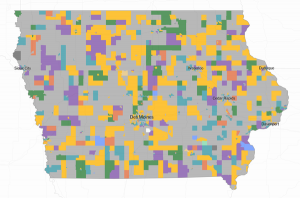 All Bernie could say was that he felt that he had done well, but the capacity crowd of over 500 people erupted with wild cheers when he came out to greet us and the mainstream media were there in force, with TV cameras from all of the networks and the leading cable TV channels.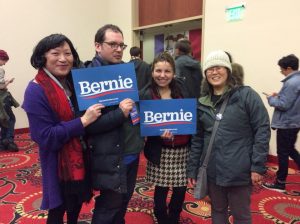 The  incredible incompetence of the Iowa Democratic Party meant that no results were available on the day of the caucuses and everyone went home hopeful but without any concrete information; but it was wonderful running into people I'd met on the campaign trail over the course of the previous two weeks, including Jake, with whom I'd canvassed in Marshalltown, and Annie, who had canvassed on a different day with Jake, as well as Holly, one of the campaign staff in the Marshalltown office.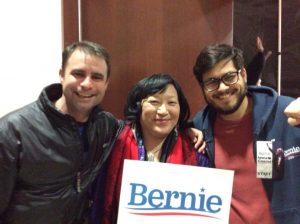 I was also delighted to run into Scott and Dmitri from the Marshalltown office; it was like old home week running into all of the Bernie people I'd met in Iowa over the course of the previous 10 days.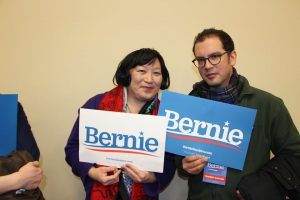 It was great sharing the celebration (albeit without results reported) with Jake, Phouty and everyone else at the Holiday Inn that evening; the amount of work that people in that room did, the number of hours they put into canvassing across the state in the cold and snow of Iowa in January, was incalculable.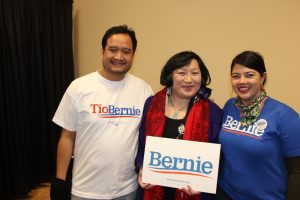 Tuesday, Feb. 4
I awoke from my sixth and final night chez Mary Ellen and packed to go to the airport.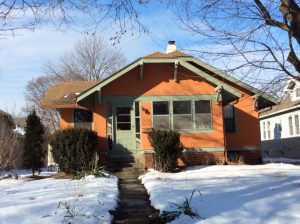 Mary Ellen very graciously offered to drive me to the airport and we had a nice chat on the way there. I had the pleasant surprise of running into one of my fellow Bernie canvassers at the airport. And the flight from Des Moines to National Airport in Washington, D.C. arrived a bit early, so I was able to get a flight earlier than my scheduled flight from National to La Guardia, getting me into New York by 10 p.m. instead of midnight.
Iowa was a great adventure but before I knew it, my Bernie Journey was over; I was exhausted by it but exhilarated as well and felt a sense of satisfaction having played a small part in helping Bernie win the popular vote in Iowa, regardless of whatever was to follow…