Rainer Maria Rilke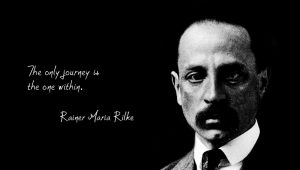 Rainer Maria Rilke ist mein Lieblingsdichter der Dichter des Zwanzigstenjahrhunderts. Rilke wurde am 4. Dezember 1875 in Prag geboren. Rilke war der Sohn eines Beamters und seine Eltern waren böhmischen Deutschsprecher; er war Student Student der Philosophie in München wo er  Lou Andreas-Salomé kennengelernte, die Geliebte seines Lebens.
1906 war Rilke der Gast der Fürstin Marie von Thurn und Taxis zum Schloß Duino in der Nähe Trieste; da dort hat er die Duineser Elegien angefangen und die erste und zweite Elegien geschrieben und die Duineser Elegien sind zur Fürstin gewidmet. Hier ist eine Landkarte der istrische Halbinsel: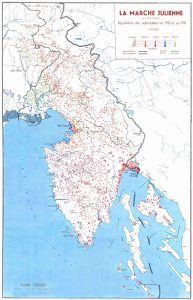 Die erster Duineser Elegie ist mein Lieblingsgedicht von Rilke; es fängt an:
Wer, wenn ich schriee, hörte mich denn aus der Engel
Ordnungen? und gesetzt selbst, es nähme
einer mich plötzlich ans Herz: ich verginge von seinem
stärkeren Dasein. Denn das Schöne ist nichts
als des Schrecklichen Anfang, den wir noch grade ertragen,
und wir bewundern es so, weil es gelassen verschmäht,
uns zu zerstören. Ein jeder Engel ist schrecklich…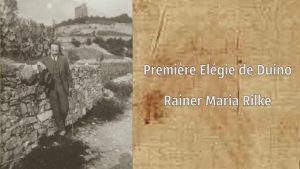 Stephen Mitchell hat die Duineser Elegien übersetzt (1980 ist die Übersetzung veröffentlicht und er übersetzt dieses Gedicht:
Who, if I cried out, would hear me among the angels' hierarchies? and even if one of them suddenly pressed me against his heart; I would be consumed in that overwhelming existence. For beauty is nothing but the beginning of terror, which we are still just able to endure; and we are so awed because it serenely disdains to annihilate us. Every angel is terrifying…
Also was kann man über dieses Gedicht sagen? Die Duineser Elegien sind lang und kompliziert; sie händeln sich über das Rätsel und das Geheimnis der menschlichen Existenz. Die Duineser Elegien geistige aber nicht geistliche Gedichte;  diese Elegien sind nicht christliche sondern spirituelle Meditationen über die Suche nach Sinn im menschlichen Leben. Die Engel Ordnungen reflektiert keine christliche Anschauung sondern eine geistige und mystische Anschauung des  Kosmos.
Es ist interessant die Duineser Elegien mit Rilkes Gedichte auf Französich zu vergleichen; z.B, "Solitude" aus "Exercises et Évidences":
De tendresses pleines, les mains,
et nul qui ferait la vendange!
Faut-il crier aux anges?

Hélas! Notre trop-plein
devant eux devient indigence.
Notre appel qui s'élance
n'est qu'un bruyant voisin
de l'indifférence.
In diesem Gedichte findet man die Frage, "Faut-ilcrier aux anges?," so ähnlich als den Anfang der ersten Duineser Elegie: "Wer, wenn ich schriee, hörte mich denn aus der Engel Ordnungen?"