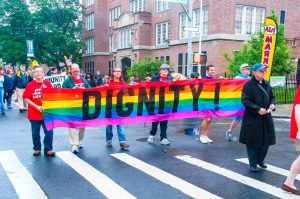 Homophobia in the office illegal: SCOTUS
Landmark ruling protects LGBTQ+ under Civil Rights Act Title VII
by Katherine Donleavy
Queens Chronicle
6.18.20
At precisely the halfway point of Pride Month, the Supreme Court delivered a landmark ruling protecting LGBTQ+ rights in the workplace — the mostly conservative court ruled June 15 that gay, lesbian and transgender workers are protected by Title VII of the Civil Rights Act and cannot be discriminated against in the workplace.
"There is simply no escaping the role intent plays here: Just as sex is necessarily a but-for cause when an employer discriminates against homosexual or transgender employees, an employer who discriminates on these grounds inescapably intends to rely on sex in its decisionmaking," wrote Justice Neil Gorsuch in the opinion. Gorsuch, President Trump's first Supreme Court nominee, and fellow conservative Chief Justice John Roberts joined the court's liberal justices for a 6-3 affirmative vote.
"Monday's ruling — 6-3 in favor that LGBT people are protected under Title VII — is a landmark victory nationwide," said LBGT Network CEO and President David Kilmnick, adding that the decision brings the country up to speed with New York, which previously had amended the state Human Rights Law to prohibit discrimination on the basis of gender identity or expression. "We should all be very proud of the U.S. It gives us hope that the true values of America — liberty and justice for all — [are] still possible even in these dark times."
The ruling came as a huge blow to the Trump administration, which argued that LGBT employees are not protected under the federal law, especially because it was delivered by one of Trump's own appointees. The administration also announced June 13 that it would eliminate an Obama-era regulation that prohibits discrimination in healthcare against transgender patients. Kilmnick said the rights withdrawal was "nothing more than mean-spirited and discriminatory."
"It was a roller coaster weekend," said Kilmnick. "He did it on the four-year anniversary of the Pulse nightclub shooting."
The Orlando massacre, carried out by Omar Mateen, claimed 49 lives and injured 53 others on June 12, 2016. LGBTQ+ community members recognize the anniversary as a memorial to the victims and a symbol of the living prejudice that remains today.
In the face of hardship, the The LGBT Network recognized the accomplishments of the community on Saturday with a virtual Pride celebration, and was elated to hear the news of the Supreme Court ruling two days later.
"It just shows that our hard work, our organizing and having our voices heard will ultimately ring out," said Kilmnick. "It rings true to what Martin Luther King Jr. said, that the arc of the universe will always bend toward justice … We need people to bend that arc, even with a president who is as mean-spirited and vile as any we have seen in our lifetimes."
Pauline Park, president of the board of directors of Queens Pride House in Jackson Heights, noted that the landmark ruling was not only a giant win for the gay community, but an enormous victory for transgender recognition and rights.
"Monday's ruling was the US Supreme Court's first pronouncement on transgender identity as well as its most important affirmation of LGBT rights," Park told the Chronicle in an email.
The Supreme Court ruling comes four years after the court legalized gay marriage in all 50 states, which Park noted was another landmark ruling for equal rights, but didn't apply to all LGBTQ+ community members — "Not all LGBTQ people want to get married; but almost all queer people have to work."
"I was surprised that the court ruled 6-3 in favor of LGBT employment non-discrimination and even more surprised that Donald Trump's appointee Neil Gorsuch wrote the majority opinion," continued Park, adding that proves how unpredictable appointees can be, and that they do not always strictly vote on partisan or ideological lines. "I think this ruling is a clear sign that the religious right has lost the 'culture war' over LGBT rights; with even conservative Republicans on the court deciding to turn the page on homophobia and transphobia, we can look forward to the day when legally permissible discrimination against LGBTQ people is a relic of the past just like so-called anti-'miscegenation' laws against interracial marriage."
Justices Brett Kavanaugh and Samuel Alito both wrote their own dissents to the ruling, but both included the idea that an employer who discriminates based on homosexuality or transgender status doesn't intentionally discriminate based on sex, as Gorsuch had argued. The two also shared an argument that homosexuality and transgender status are conceptually distinct from sex because the two characteristics are not already listed as protected under Title VII, which includes race, color, religion, sex and national origin — if Congress had wanted to address those matters in Title VII it would have referenced them specifically, they said.
"Under the Constitution's separation of powers, however, I believe that it was Congress's role, not this Court's, to amend Title VII. I therefore must respectfully dissent from the Court's judgment," Kavanaugh wrote.
Although the ruling marked a progressive step in the fight for equality, Park notes that it is not the end for LGBTQ+ rights. She looked toward the Equality Act, which would prohibit discrimination on the basis of sex, gender identity, and sexual orientation and for other purposes beyond employment, such as in housing, public accommodations, education and credit. The bill, sponsored by Rep. David Cicilline (D-Rhode Island), passed the House of Representatives on May 17 with a 236-173 vote. The Senate version sits in the Judiciary Committee.
"What cannot be doubted is that June 15 was the best day at the Supreme Court the LGBT community has ever had and marks a historic turning point in the history of LGBT rights," said Park.
This article appeared on the website of the Queens Chronicle on 18 June 2020 under the title, "Homophobia in the office illegal: SCOTUS."