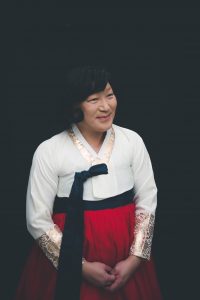 I'm actually not one for big birthday parties; in fact, I've only had one really big public birthday party in my life. When I turned 50, I was initially inclined to keep my age as big a secret as possible, but then did just the opposite: I ended up organizing a big public event at a gallery in Soho and inviting scads of friends.
I used my 50th as a fundraiser for the New York Association for Gender Rights Advocacy (NYAGRA) and the Transgender Legal Defense & Education Fund (TLDF) and it drew well over 100 people to the gallery, raising thousands for the two transgender advocacy organizations.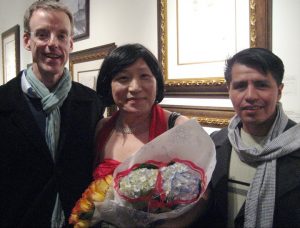 I wasn't actually going to do anything much for my birthday this year because the Corona virus pandemic has made large gatherings unsafe; but when a Korean friend of mine found out about my 60th birthday, he insisted on organizing a virtual birthday party for me. Taehoon Kim told me that in Korea, the 60th and 70th birthdays are considered special; in old Korea, few lived to such an advanced age, so those who did were considered venerable figures; in fact, those birthdays even have unique names, the 60th being called the 'Hwangap' 환갑.
"The Hwangap 환갑 is the traditional celebration of the 61st birthday by Korean count, or the 60th birthday by Western count. The ritual marks the auspicious return to the year of birth after five times around the 12 year lunar cycle. For many, the Hwangap marked the transition of an individual from an active role in the family and society to an advisory role, a retirement of sorts. In pre-industrial Korea, Hwangap was regarded as a sign of longevity due to the shorter life expectancy, but modern day Koreans tend to skip a big Hwangap celebration and focus on 70th (Chilsoon) or 80th (Palsoon) birthdays as the new big celebration," writes Julianna Song ("Guide to Hwangap 환갑: Korean 60th Birthday Celebration," Best of Korea, 10 July 2020), noting, "The traditional Korean hwangap was a life cycle event, a living ancestor worship ceremony. Such life cycle ceremonies were links between life and death, and tied ancestors and descendants together in a symbolic rite of continuity."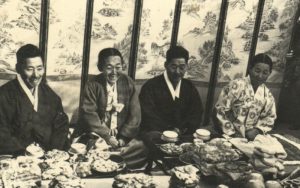 "Music, singing, and dancing were often part of the agenda. The program for the event is loosely set with the following agenda: flower presentations; oral histories of the celebrant, his ancestors and descendants; wine serving; individual and group singing; poetry readings and speeches made by various members of the community about the celebrant, the celebrant's family, and/or the event. This is the basic agenda, and the exact sequence of items may varied from event to event," writes Song.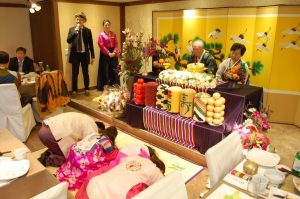 Three weeks before the party, I met Taehoon and his wife in Flushing; Lea is a distinguished semi-professional photographer and very generously offered to take photos of me to include as visual elements in the Zoom party, so I have to thank her for some of the best photos ever taken of me as well as the loan of the hanbok; it was only the second time I'd ever worn a hanbok. The 'studio' for our photo shoot was an outdoor location near an elevator in an obscure corner of the Skyview Mall in Flushing. I joked that the hanbok made me look like Queen Min 민자영, a.k.a., the Empress Myeongseong 명성황후 and Lea and Taehoon said they hoped I didn't end up like her~!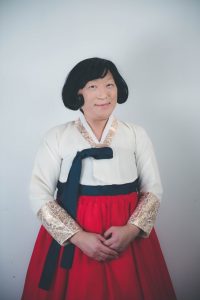 For my Hwangap, Taehoon recruited Korean American activist Peace to join the organizing committee, along with my long-time friends John Won, Clara Yoon, Andy Marra and Michael Benziger. Andy and Michael agreed to serve as the hosts and MCs of the Zoom party. I sent Taehoon Minsoo Kim's photo of me speaking at the Queer Korea Festival/Seoul Pride Parade 2015 to use for the invitation and he created a Facebook event page. I also uploaded a raft of photos for the slide show that John was putting together for the event.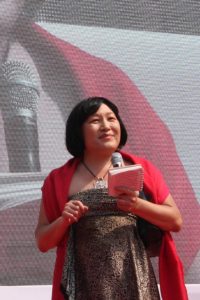 On Saturday, November 14, I awoke with anticipation and prepared myself for the event, which was to begin at 7 p.m. Late in the afternoon, a nice young Asian woman arrived with a bottle of champagne, a piece of chocolate cake and a bouquet of roses; the champagne was a bottle of Moët & Chandon, one of the premier brands of bubbly from the region of Champagne in France, where all true champagnes originate. The red roses were beautiful and I put them in water; roses are my favorite flower and red is my favorite color; and the cake was chocolate, my favorite flavor.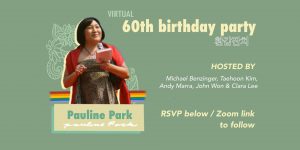 At 7 p.m., I connected via Zoom and was delighted to see Peter Savasta already in the party; Peter and I tried to figure out exactly when we first met and I guessed it was sometime in 1996 or 1997; we reminisced about the little group that we started that we called 'Organization of Adopted Koreans' (OAK) before Peter discovered that Hollee McGinnis had started Also-Known-As, Inc., the organization for intercountry adoptees that we both joined, Peter becoming a leading member in the early days of AKA. I noted the irony that Peter was born in raised in Queens but some years ago moved to Hawaii, while I'd grown up in the Midwest and moved to Queens in 1997.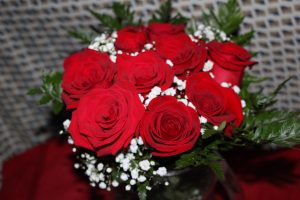 I was delighted that Michael Benzinger and Andy Marra had agreed to emcee the event. Michael and I are actually cousins: we met through DNA testing and have become good friends. I met Andy through the campaign for the New York State Dignity for All Students Act (NYC DASA) when she was still in high school, many years before her transition; she is now the executive director of the Transgender Legal Defense & Education Fund; I was actually the first member of the TLDEF board of directors when Michael Silverman founded the transgender advocacy organization back in 2005. Andy mentioned in her heartfelt tribute that I was the first openly transgendered Korean adoptee she had ever met.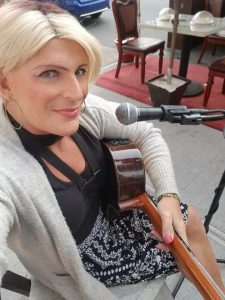 Lulu Michaels provided the musical interlude with a beautiful and moving rendition of "Yesterday." I responded by saying that the Beatles were my favorite rock group, which she said she didn't know when she chose the song to sing at the event. I met Lulu through the Queens Pride House transgender support group, which she mentioned in introducing her musical performance, which was one of the high points of the event.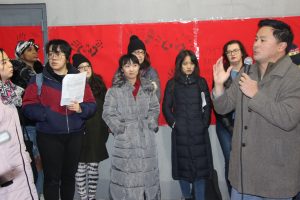 I was also gratified by the tributes paid by New York State Assembly Member Ron Kim and John Choe, the executive director of the Greater Flushing Chamber of Commerce. I met John years ago when he first ran for City Council and I'm delighted that he's running again. I met Ron through the coalition that Red Canary Song organized to advance the legislation that he's introduced in the Assembly to decriminalize sex work, and important issue for the Asian American community in Flushing as well as the transgender community. Ron and John are in fact among only a handful of progressive Korean Americans in Queens and are valued leaders I'm proud to work with.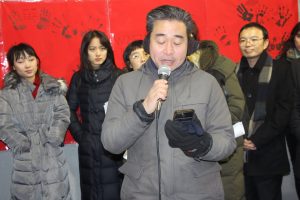 I was delighted to see so many friends join the party; there were nearly 40 people in the Zoom at its height, and my old friends Lance and Stuart Chen-Hayes offered tributes, noting that they'd met me in Chicago way back in 1995 through my co-founding of Gay Asians & Pacific Islanders of Chicago (GAPIC), which was my first engagement as an activist. My dear friends Winston Lin, Greg Bynum, Stephanie Hsu, Michael Yarbrough and Rafael de la Dehesa all participated in the event along with so many others; a few people I hadn't heard from in years also joined in. I'd sent an invitation to Edgar Rodriguez and I was delighted to see him join the party; I'd recruited him to facilitate a workshop at a conference for transgendered people of color over 20 years ago and hadn't seen him since, so it was a wonderful surprise to see his face in the crowd.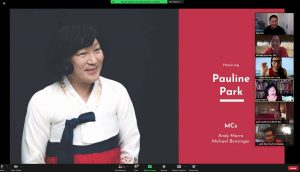 After the various tributes, participants raised their glasses to toast my 60th birthday and I poured some champagne from the bottle of Moët & Chandon to join them. As the formal proceedings wound up around 9 p.m., Bruce Bartley, Dan Gettleman, Cassandra Grindall and I started a casual conversation about politics that continued until 10:30 p.m.; each of them knew me but none knew the others; but we're all politically progressive and follow politics closely and it was a rather extraordinary coincidence that my birthday party was being held on the very day that Joe Biden was declared the winner of the 2020 presidential election by the Associated Press and the rest of the mainstream media. While I didn't vote for Biden and didn't consider his election any cause for celebration, I certainly joined the others in celebrating Donald Trump's defeat and the end of his reign of terror and error and I regarded it as an auspicious coincidence that his defeat coincided with my 60th birthday party.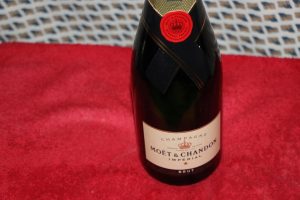 At the end of the birthday party, Clara Yoon encouraged everyone to sign an on-line birthday card and created a PDF of it; the comments from friends were deeply gratifying and much appreciated:
"On the very special day, I wish you a happy birthday and endless joy every day! Thank you for being you, and I so so so appreciate you. With so much love. Happy birthday"~Aries Liao
"No way are you 60! Happy birthday and wishes for many more!"~HJ Lee & Theresa Choh-Lee
"Hi Pauline! Happiest birthday to you and hope to continue to walk with you on this path to peace! Happy HwanGap!!"~Echo, Korea Peace Now & KQTdc
"As a Korean mom of a queer child with trans experience, your life and work mean so much to me and other parents because you have paved the way with your accomplishments for the next generation of Korean/API LGBTQ community members. I wish you a happy and beautiful 60th birthday!!! Love, Clara"~Clara Yoon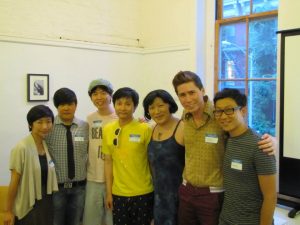 "Wishing you a very happy birthday filled with happiness and joy!! Your kind gesture, relentless advocacy, and compassion inspire many." ~Jennifer Park
"Your work and advocacy is an inspiration to many. I hope your birthday is full of laughter and joy, as well as rest! With much admiration and respect" ~Peace
Happy birthday Pauline! How lucky we are to live in a world with you in it!! Much love"~Michael Y
"My great honor and enduring joy to have you as my chosen family and eminent teacher these many years… and many more! Thank you for our friendship and kinship. I love you!"~Stephanie Hsu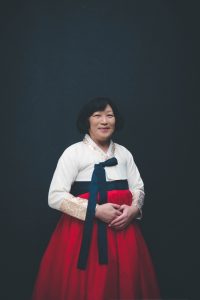 "Wishing you all the best Pauline. Much love"~Peter Savasta
"Happy birthday Pauline! Thank you for all that you do for our communities!"~Ron Kim
"Happy 60th Pauline. Hard to believe it's been 25+ years since we met in Chicago. We keep following you around the country. May you have a fabulous next decade and keep fighting and being fierce along the way. Sending lots of ecosocialist n queer n trans love"~Lance & Stuart & Kalani Chen-Hayes
"What a major milestone! Wishing you so many more years of impact in all the great work you do!"
"Happy Birthday, Pauline! Sending you warm wishes as you celebrate this milestone."~Andy Marra
"I'm very happy to be here with your wonderful friends, and I'm not surprised that so many have opted to join you tonight. YOu have left an immense impression on a great many people, and I've learned a lot from knowing you. Best wishes for many more years of activism. And I'm very impressed that the entire world seems to be celebrating your birthday this evening!"~David S.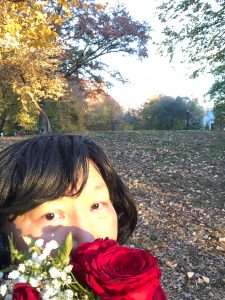 "Happy birthday, Pauline, with much love!!!"~Winston Lin
"Happy birthday, Pauline! I love your choice of Renaissance party music"~Greg Bynum
"Happy 60th birthday, Pauline!"~Taehoon Kim
"OMG the big 6-0. Happy birthday, Pauline!"~Ryan Shen
"Pauline!! Happy 60th Birthday. Thank you for opening your arms and heart to me. The time and care you you've extended to me was so unexpected and such a gift. You are a testament to the strength, beauty, intelligence, and tenacity of our Korean, queer and trans communities. I am so grateful to you (from your photographs to your piano music to your wonderful laugh). Thank you Pauline. The happiest of birthdays!"~Aileen
"Happy birthday, Pauline!!!"~Joe Belfatti
"Dear Pauline — you are beautiful & awesome! I started writing longer messages earlier & each time got booted out of this box, so want to make this sweet. Happy 60th birthday! I just turned 80 so you're still way behind me! Un abrazo fuerte…"~Aiyoung
"Pauline!! Happy birthday!!! 60!!! It's so great. Hope you will have a wonderful time, celebrating one full cycle of the 60 6years. Hope many more years of active creation, art work and community work! Congratulations!! Yay!"~Juyeon Rhee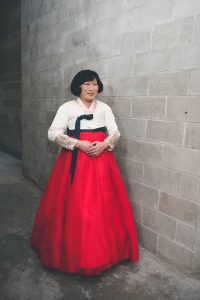 There are so many people to thank for this wonderful event, including Michael Forest of Open Wave Digital, my webmaster, who set up the donation page; and of course all those who generously donated to the New York Association for Gender Rights Advocacy through the donation page on the NYAGRA website; host & hostess with the mostess Michael Benzinger and Andy Marra; John Won, the wizard of the web who created the on-line infrastructure for the event; Peace and Clara Yoon for their work on the organizing committee; Lulu Michaels, whose wonderful rendition of "Yesterday" was one of the highlights of the Zoom party; Lea Kim, whose extraordinary photos made me look like the last queen of Korea; John Choe and Ron Kim, who are indefatigably advancing a progressive agenda for the people of Queens; and above all, Taehoon Kim, who spearheaded the entire event…