Yuh-Line Niou for Congress
by Pauline Park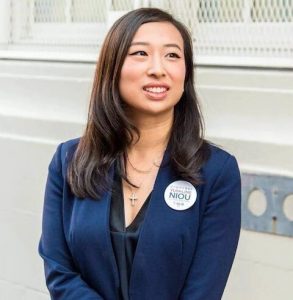 I have only rarely endorsed candidates for office, having been so disappointed so often by so many of them; I endorsed Bernie Sanders in 2016 and 2020 and even canvassed for him in Iowa two years ago; locally, there have been very few candidates or elected officials who have come close to exemplifying the progressive ideals that I have spent the last quarter of a century working to realize through my activism and advocacy work; but I think I've found one now and she's running for Congress this year.
Yuh-Line Niou became only the third Asian American woman elected to the New York State Assembly in 2016, where she represents the 65th Assembly district — which includes Chinatown, the Lower East Side, the financial district and much of lower Manhattan; since then, she has worked tirelessly to advance a progressive agenda of social justice and social change, helping establish the state's first ever Asian Pacific American Legislative Task Force and sponsoring and co-sponsoring legislation to benefit the most marginalized communities in New York.
When new lines were drawn creating a new tenth House district in New York — running all the way from the Upper West Side of Manhattan deep into southern Brooklyn; the contest will undoubtedly be decided in the Democratic primary on August 23 and the fact that it's a new district with no sitting incumbent has attracted a huge field of candidates for the Democratic nomination — 18 until Bill de Blasio dropped out when the former mayor saw a poll that showed his support at a dismal four percent. While at least a few of the candidates in the race have genuine progressive bona fides, polls suggest that the race is between Yuh-Line Niou and Carlina Rivera, who currently represents the 2nd district (including much of the Lower East Side) in the New York City Council. While Rivera has a decent record in the City Council, it is also true as Niou has noted that Asian Americans are not only the fastest growing population in the city but may also be among the most underrepresented of communities.
I would certainly like to see more Asian American women in Congress, but I am now represented by one and am frankly not in the least bit impressed by her; and so identity politics is at most a secondary or even tertiary consideration for me when deciding to endorse candidates. Redistricting has moved me from the 14th House district — represented by Alexandria Ocasio-Cortez — to the 6th — represented by Grace Meng; but while I do not live in the new 10th House district, my concerns and my activist agenda are as focused on federal legislation and policy as they are on state and local legislation and policy; and what distinguishes Yuh-Line Niou from the rest of the field in the contest for the Democratic nomination in the 10th is her endorsement of the boycott, divestment and sanctions (BDS) movement working to free Palestine from Apartheid Israel's illegal and genocidal occupation (Matthew Kassel, "'I do support BDS': Yuh-Line Niou lays out her Middle East policy approach," Jewish Insider, 11 July 2022).
Endorsing BDS means standing up to the Zionist machine, which has enormous resources available to defeat candidates and elected officials who break with the party line on unconditional support for Israel's illegal ethnic cleansing and pursuit of genocide in illegally occupied Palestine. Niou's courageous stand puts her head-and-shoulders over all of the other candidates in the 10th; her affirmation of her position at the candidate forum at Congregation Beth Elohim in Park Slope on July 26 (which she participated in virtually) — as reported by Jacob Henry of New York Jewish Week (Jacob Henry, "A NY congressional candidate doubles down on BDS support at forum held by Jewish groups," Jewish Telegraphic Agency, 27 July 2022) was a gutsy move and contrasts sharply with the response by U.S. Rep. Mondaire Jones — who currently represents the 17th House district — which includes Rockland County and parts of Westchester County (very far from the new 10th district); Jones has a genuinely well-earned reputation for progressive politics and even a willingness to criticize Israel, but his mealy-mouthed statement at the July 26 forum that he disagrees "with a number of actions taken by the Israeli government" falls far short of what should be expected of a progressive committed to social justice and a progressive foreign policy. None of the other candidates participating in the forum were willing to go even that far and Elizabeth Holtzman took the opportunity to wax nostalgic about the founding of the state of Israel in 1948.
It was in fact Niou's reported support for BDS and willingness to (re)affirm that support in the July 26 candidate forum that prompted me to reach out to her and offer my endorsement — without any expectation of anything from her beyond general access to her and her office once she is elected — which I certainly hope she is. Yuh-Line Niou is the obvious choice for progressive voters voting in the Democratic primary in the new 10th House district; we need more progressives like her working to advance an agenda of social justice and social change; I endorse her for Congress enthusiastically and without qualification and I urge all of those registered to vote in the Democratic primary on August 23 to do so as well.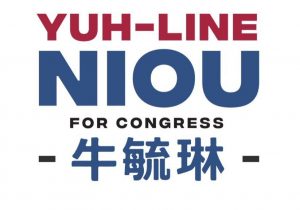 Pauline Park was born in Korea and currently lives in Jackson Heights in western Queens; she led the campaign for the transgender rights law enacted by the New York City Council in 2002; in 2005, she became the first openly transgendered grand marshal of the New York City LGBT Pride March and in 2012, she participated in the first US LGBTQ delegation tour of Palestine. Park co-founded a number of organizations — including New York City Queers Against Israeli Apartheid (NYC QAIA) — but this endorsement is an individual one made in her personal capacity and does not imply the endorsement or approval of any of the organizations she co-founded or with which she has been associated.