Røvær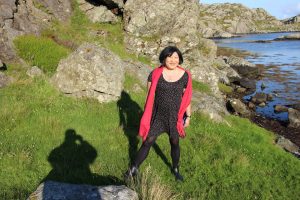 Travel, it is said, can be a broadening experience; but is it a deepening one? I had a friend years ago who loved to say, "I am not a tourist, I am a traveller" — which reminded me of Percy Bysshe Shelley's poem "Ozymandias," which begins, "I met a traveler from an antique land…" All too many Americans unfortunately reinforce the stereotype of the Ugly American when they travel abroad; I try to avoid those compatriots like the plague when I travel.
I've had many extraordinary experiences traveling both within the United States and beyond its shores, but only a few travel experiences have been so memorable as to merit the word 'transcendental.' One such occasion was when I climbed a fence in Mycenae to enter the beehive tomb of Agamemnon and Clytemnestra in Mycenae when I was in Greece in 1981; another was when I arrived at the Piazza San Marco in Venice in a vaporetto at sunset on my visit there in 1983; a third and perhaps the most extraordinary was my trip to the island of Røvær in July 2017.
My father's parents had emigrated from Norway in the mid-nineteenth century but neither my father nor his sisters ever got there so I was thrilled when I had the opportunity to visit the paternal ancestral homeland in 2017; I was invited to speak at Oslo Pride House about LGBT rights in July and to speak to members of the Palestina Komite i Norge (Palestine Committee of Norway) about the pinkwashing of Apartheid Israel's illegal occupation of Palestine. But after a week in Oslo, I flew to Spain for two weeks before flying back to Norway for a second week in the Land of the Midnight Sun; it was my ambition to trace the footsteps of my father's ancestors in Vestlandet — the 'West Country' of Hordaland fylke (county) and Rogaland fylke where they had lived in centuries past.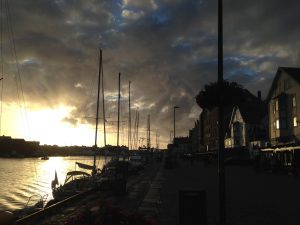 Arriving on the evening of July 17, I saw the sun set over the brygge — the wharf from which my farfar (my father's father) sailed to the New World, never to see his native Norway again; I felt a strong connection with my late father as I strolled the brygge — a bittersweet moment knowing that he himself had never made it 'back' to Norway; to a certain extent, I felt I was making the trip for him — the trip that he might have made had he both the means and the inclination.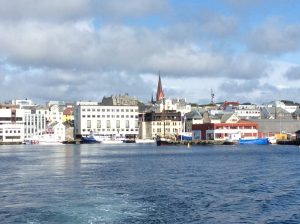 I spent the better part of a week in Rogaland fylke, using Haugesund as a base for exploring the area. I stayed at a mid-range hotel that was very comfortable and had the BBC on its TV line-up; the only downside to my room was that it faced another building across a very narrow alley, so that when I looked out my window, I felt myself to be cheek-by-jowl with its residents; were I to stay there again, I would definitely request a room facing the street; better yet, I would stay at the hotel on the wharf so I would have a view of Haugesund's charmingly beautiful little harbor.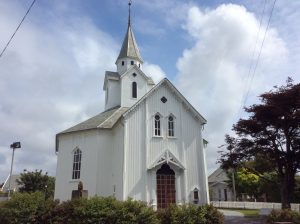 After several years of genealogical research — including two visits to the Family History Library in Salt Lake City as well as endless on-line research — I'd been able to trace my father's paternal and maternal lines as far back as the 16th century. My farfar (my father's father) emigrated from Haugesund and my farmor (my father's mother) emigrated from Stavanger, so I made it a point to visit both cities. In Haugesund, I visited Skåre kirke, the church my farfar and my oldefar (father's grandfather) had been members of; the most historic church is now actually used as a cultural center, but its spire still rises high over the surrounding area, which was once the farm on which my father's paternal ancestors lived going back several generations.
But before those ancestors settled in and around Haugesund, they lived in various areas in Rogaland fylke (county) and Hordaland fylke. I was able to trace at least one of my father's ancestors to Røvær (an island in Rogaland fylke) which is a 15-minute ferry ride from Haugesund; in the Haugesund tourism bureau, I found a map of the island, which indicated that there was an ancient settlement called the 'Vikingtuftet' at Grønevika, a fishing village that may have been populated even before the Viking age.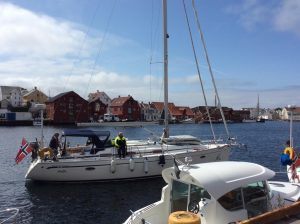 I decided to try to find the ancient site as well as to explore this obscure little island off the coast of Norway; my second full day in Haugesund, I went down to the brygge (wharf) to catch the ferry to the island; but I missed the 3:30 p.m. ferry because I was at the wrong end of the wharf; that error proved to be fortuitous, because I ran into a local islander coming off the 4:40 p.m.; he must have thought I was looking for the toalett because I was looking around wide-eyed like a clueless tourist. I was actually looking up at a huge barn on the little wharf, which I somehow imagined was some sort of cultural center; but it was closed.
When I told the man I was actually hoping to visit the Grønevika, he told me I'd never find it on my own and he was right; but he offered to take me there to see the prehistoric archaeological site that few visitors to the island ever see. But first, he and his daughter invited me back to their house, where she and his wife made pizza for all four of us and we had a chat about Norwegian genealogy and life on the island. I showed the family my family tree, tracing one line back to a man named Jan Torgesen; as it turns out, my host's name was also Jan Torgesen.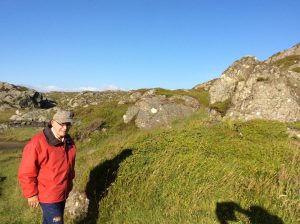 This 80-year-old Norwegian, who only retired as a tour guide giving tours of the island at the age of 79, was as spry as a mountain goat and after dinner, he led me through the wilderness, through rocks and mud and bramble bushes, to the Vikingtuftet on the southern end of the island. It was half an hour of rock climbing & mud puddle jumping each way, but it was worth the exhaustion to see this prehistoric site that few other than locals ever see because of the difficulty of getting there. The stark beauty of this primeval wilderness is striking, devoid of humans and animals as it is, a few birds being the only denizens of this site, once occupied by humans over a millennium ago, with rock formations showing clear signs of human construction and manipulation. I'm deeply grateful for the generosity of this wonderful octogenarian, whom I would never have met had I not missed the ferry I intended to catch.
Over the course of a half century of travels across North America and Europe , Asia and the Middle East, my visit to the magical little island of Røvær was one of the most extraordinary and the Vikingtuftet at Grønevika was certainly one of the most extraordinary sites — and sights — I've ever seen; whether I ever see this little island — and the Viking fishing village at Grønevika — again I do not know, but this experience is one that will live on in memory and will certainly be one I remember as of the high points of my time in Norway.