These Umbrella-Twirling Drag Defenders Are Protecting Libraries from Bigots
Kelly Weill
The Daily Beast
June 25, 2023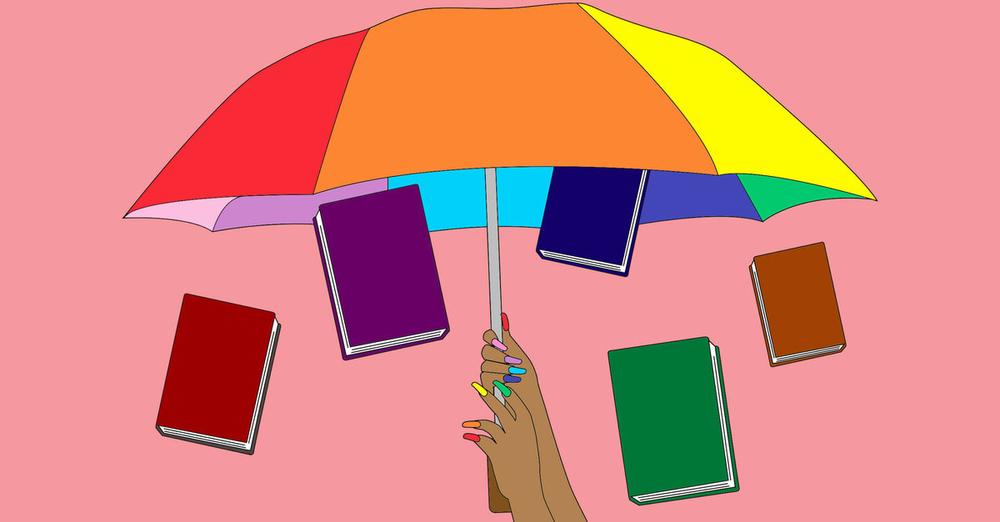 On a Tuesday afternoon, police encircled the Elmhurst, Queens public library in two layers of crowd-control barricades. Next to arrive were the volunteers, carrying rainbow umbrellas and brightly colored posters. "Libraries are for everyone," read one sign.
Then, minutes before a family-oriented story time was set to begin inside the library, the right arrived. Bearing "Don't Tread On Me" flags and "Blue Lives Matter" t-shirts, the dozen or so demonstrators paced the sidewalk shouting slogans and obscenities as library patrons maneuvered the cops and fences to access a public building where, for the next hour, a drag performer would read books to children.
Pauline Park, a longtime Queens-based LGBTQ rights organizer, watched the anti-drag demonstrators, a rainbow poster in her hands.
"I know some of these people by sight," she told The Daily Beast. "The same bunch of people, about a dozen of them, go from drag story hour to drag story hour. They have nothing better to do with their time than to try to disrupt."
It's LGBTQ Pride Month in the city that kickstarted America's gay rights movement more than 50 years ago. But that liberation movement remains a battle, played out in state legislatures and at barricades around public libraries as the GOP puts LGBTQ rights in its crosshairs. On one frontline of the fight are New York City's drag defenders, a coalition of volunteers who guard events like drag story hour against a small but emboldened set of opponents.
"On the one hand, a few bigots, some of them with the Proud Boys," Park said of the anti-drag crowd. "On the other side, you have people from throughout Queens, both LGBT and non-queer folks who are supporting this event."
A woman holds up a sign saying "We Love Drag Queen Story Hour!" and Flame, a drag queen, looks fabulous. A Drag Story Hour defender and Flame, a fabulous drag queen.
Libraries have hosted the drag events since at least 2015 when author and activist Michelle Tea launched Drag Story Hour (now a nonprofit with dozens of chapters in the U.S. and abroad). The kid-friendly events feature performers in colorful dress, and messages about inclusivity.
Flame, a New York City-based Drag Story Hour performer, has been attending those story hours for five years. Some of the children they once read to are now teenagers, "who remember me reading to them 'when I was still a kid'," Flame told The Daily Beast.
"They remember me by name, they remember the stories I read and they remember the lessons we teach of self love, creative self-expression, and empathy and respect for others despite race, color, gender, orientation, or disabilities. It's been so rewarding to see."
"We're not going to tolerate people going up and disrupting a children's event. It's like, do you have anything better to do?"
But the readings have drawn increasing conservative ire as Republican politicians unveil a legislative broadside against LGBTQ rights — in 2023, lawmakers have introduced more than 520 anti-LGBTQ bills, many of them targeting drag and minors' ability to access information on LGBTQ issues.
With those bills have come demonstrations against drag events. A June report by the Institute for Strategic Dialogue found anti-drag protests to have increased in 2023, sometimes escalating to threats, doxxing, and property damage for drag performers and venues that host drag shows.
"The first five months of 2023 have seen more incidents of anti-drag protests, online and offline threats, and violence (97 in total; average of 19.4 per month) than in the last seven months of 2022 (106 in total; average of 15.1 per month)," the ISD report found. The report also found that the anti-drag demonstrations were being driven by "not just traditional anti-LGBTQ+ groups but include growing numbers of assorted other actors, from local extremists and white supremacists through to parents' rights activists, members of anti-vaxxer groups, and Christian nationalists."
The opposition "has definitely become more organized," Lucy, a local parent who held pro-LGBTQ posters outside the Elmhurst library, told The Daily Beast.
"To be honest, I think there are a lot of fringe, extreme right groups that are pretty racist, pretty anti-immigrant, pretty sexist, they're anti-vaxx, they use intimidation and harassment to get their ideas across, and I think a lot of them have latched onto trans rights as a wedge issue that they think they can gain traction on."
Over the past year, some of the regular drag defenders have formalized techniques for shielding the children's story events. On Tuesday, a line of pro-LGBTQ activists rattled colorful noisemakers to drown out chants of 'groomer' and held up a wall of rainbow umbrellas, shielding the library's entrance from the anti-drag faction, some of whom were filming on phones.
In Elmhurst, drag defense is a neighborhood affair, said New York City council member Shekar Krishnan, who represents the neighborhood and nearby Jackson Heights. Krishnan pointed to a recent trend of anti-drag incidents, particularly in Jackson Heights which is home to a long history of LGBTQ activism.
"They remember the lessons we teach of self love, creative self-expression, and empathy and respect for others despite race, color, gender, orientation, or disabilities."
"The drag story hour defense is such an essential, uplifting, and necessary part of this work," Krishnan told The Daily Beast. "When our community shows up every time, far outnumbering the extremists who are there, that is a definition of community safety, that is a definition of solidarity to show up together."
Lucy said drag defense has connected her with other families in her building and on her block who want to attend the events but are fearful of anti-drag demonstrators. "Our welcoming, festive presence makes it feel safe for families to attend," she said. "I've got a lot of emails from people in my neighborhood thanking everyone who comes out in support."
Still, drag defense is not without risk. Lucy asked to withhold her last name, citing the potential for harassment, which other supporters of drag story hour have previously experienced intimidation online and at their homes and offices.
Krishnan has previously supported drag story hours in his district, only to be targeted by some of the same demonstrators at his home. While Krishnan was at home with his children in January, anti-drag protesters gathered outside to shout racist slurs and scrawl "groomer" on the sidewalk. "It's an extremely offensive and vile display," he said.
His district office was also vandalized, as were the homes of fellow council members Erik Bottcher and Crystal Hudson, who also supported drag story hour. Bottcher, who is gay, has been a particular target of anti-drag demonstrators. In December, two anti-story hour regulars broke into Bottcher's building and refused to leave. They pleaded guilty to disorderly conduct in March. A leader of their anti-drag group, David Nieves, was arrested in December for allegedly breaking into Bottcher's building and assaulting his neighbor.
Nieves was present at Tuesday's drag event in Elmhurst, where he shouted erratically at library workers until police moved him away from a barricade.
Callan Ditmyer, one of the volunteers who gathered in support of the drag story hour, said he'd seen similar outbursts over the past year — but that drag defenders' goal is to keep them out of the library.
"We're not going to tolerate people going up and disrupting a children's event," he said. "It's like, do you have anything better to do?"
Nieves' group, the Guardians of Divinity, emerged from the anti-vaccine conspiracy world, and pivoted to anti-drag activism around September 2022, according to the ISD report. Since then the group has "orchestrated 21 anti-drag events (averaging 3 events a month), 16 of which have ended with verbal or physical clashes between Guardians of Divinity and either counter-protestors or event attendees," the ISD found.
The group is small, ISD notes. Even its Telegram channel has a scant 229 followers, and its in-person events are smaller. Approximately 10 people, some of them recognizable members of the group, demonstrated outside the Elmhurst library on Tuesday. Past events have included uniformed members of the Proud Boys, another far-right group with a violent history in the city.
Small and extreme, these groups are the anti-LGBT movement's boots on the ground. But they're networked with more established figures in more conventional conservative operations. In March, the New York Young Republicans Club hosted Nieves and his fellow demonstrator Anna Morgan, who had pleaded guilty the previous day to disorderly conduct in Bottcher's building.
Other microcelebrities of the right have also demonstrated outside New York's drag story hours. Joining the crowd outside the Elmhurst library on Tuesday was Brandon Straka, a pro-Trump internet personality who pleaded guilty to disorderly conduct for his actions during the Jan. 6 Capitol attack.
Straka, unsuccessfully disguised in a Black Lives Matter shirt, attempted to enter the library during the story hour, but was turned away by employees. Straka told The Daily Beast he was acquainted with some of the other anti-drag demonstrators, though he declined to provide names — less than he did after Jan. 6, when he provided information on fellow Stop The Steal activists to the FBI.
For all their noise outside the library, the anti-drag demonstrators have been consistently outnumbered by drag defenders, with approximately three times as many pro-LGBTQ volunteers as opponents on Tuesday.
And those numbers only reflect the outside of the library, Park, the Queens activist said. "These events are often packed, sometimes to capacity," she said, recalling a recent drag story hour in Jackson Heights, "where they had to turn away families, unfortunately, because it was so popular."