Avital Ronell & Judith Butler: a cautionary tale of power & accountability in academia
by Pauline Park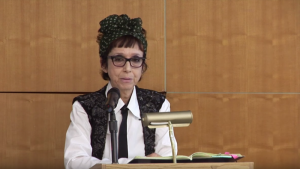 2017 was the year of reckoning for men who had long engaged in sexual harassment with impunity. Ronan Farrow broke the story of Harvey Weinstein's long and sordid history of sexual harassment and sexual assault as the most powerful mogul in Hollywood and won a Pulitzer Prize for his groundbreaking reporting. Many heads were to roll after Harvey's, most of them heteronormative conventionally gendered men but at least one closeted gay man (Kevin Spacey) and even a few women. Manhattan district attorney Cyrus Vance, Jr.'s failure to prosecute Weinstein and his connection with presidents and presidential candidates from Bill and Hillary Clinton to Barack Obama tainted government as well as the entertainment industry.
One might hope for higher standards in the groves of academe; but were one tempted to look to the academic world and perhaps to LGBT studies and queer theory in particular to articulate an ethic of responsibility and accountability, one might be sorely disappointed to see academia roiled by ethical scandals just like politics and government and the arts world. The most obvious case in point was the scandal that hit New York University when a tenured member of the NYU faculty was accused of sexual harassment by one of her graduate students. Avital Ronell is a tenured full professor of German and comparative literature described by the New York Times as "one of the very few philosopher-stars of this world"; she was suspended without pay for a year after being found responsible for sexual harassment of Nimrod Reitman, one of her graduate students.
It is striking indeed, given Avital Ronell's long history of authoritarian, unethical and abusive behavior — apparently widely known throughout NYU and throughout the academy more generally — that Judith Butler, Gayatri Spivak, Slavoj Žižek, et al. would not only defend Ronell but accuse NYU of acting abruptly and unfairly to her and denying her due process; as Hüppauf notes, "The critique of asymmetrical power structures in universities, which the case of Avital Ronell would allow, will be prevented by the ranks now closing around her. Avital Ronell's supporters will ensure that existing power structures remain in place." It is all the more striking, given that many of these apologists regularly rail against the very neoliberal academic economy which Ronell embodies as well as benefits from. While Ronell's exact salary has not (as far as I know) been made public, NYU itself notes,
"The university is a particular kind of corporation. Even public universities now rely more heavily on tuition and private funding than on state support. But the state still has a heavy hand in university operations, via the distribution of federal funds. In the university, federally mandated procedures under Title IX govern procedures for adjudicating sexual harassment complaints. These mix with each university's own procedures, outlined in faculty handbooks."
The forgoing is a fairly unobjectionable statement of fact, but then Duggan proceeds to discuss the Avital Ronell case and soon gets into deeper water, as when Duggan declares, "What we see emerging is the full catastrophe, a huge mess, a clash of cultures, and issues of power and boundaries in academia." Granted that the case obvious raises 'issues of power and boundaries in academia,' it is hard to see what 'catastrophe' there is here except perhaps for Avital Ronell's reputation. Even more questionable is Duggan's assertion that  "The selective demonization of queer and women faculty is very clear in this case. Not only was Ronell treated more harshly than many men accused of far worse infractions, but the personal attacks and demonization of her on social media is breathtaking" and the attribution of the reaction to the revelation of the scandal to simple 'misogyny,' as when she declares, "Misogyny is rife even among the queers and feminists posting personal attacks — they do not do this to similarly accused male faculty." I am not really in a position to speak for others criticizing Ronell, but I am just as critical of men engaged in sexual harassment as women if not possibly more so. (Anyone following me on Facebook and Twitter will see many, many posts focusing on sexual harassment and almost exclusively on heteronormative men, with a few references to Kevin Spacey and Asia Argento.)
Lisa Duggan's defense of Ronell is indeed a 'deflection,' as Chu writes so perceptively. Granted that the scandal can be and arguably has been somewhat sensationalized because of the sexual aspect of it, but it is absolutely not a 'sex panic' as Lisa Duggan so absurdly labeled it; that way lies Absurdistan. Ronell vs. Reitman was and is really all about power: the enormous power of a tenured full professor at one of the wealthiest academic institutions in the world and her ability to demand sexual favors of her advisee, even demanding that he respond to her in the bizarre language of lovers despite her being his faculty adviser and twice his age. In what professional context would it be appropriate for a superior to address his or her subordinate as 'Sweet cuddly Baby,' 'cock-er spaniel'? In what professional context would it be acceptable for colleagues to demand that the head of the organization or firm simply drop an investigation into allegations of sexual harassment simply because of the prominence and power of the accused?
My willingness to speak out against Avital Ronell's sexual harassment and Judith Butler's defense of it prompted Lisa Duggan to 'unfriend' me on Facebook, where I had never once posted a single criticism of her either with regard to the Ronell scandal or anything else; quite the contrary: I had been unfailingly supportive of Lisa Duggan, including with regard to her recent health issues as well as the controversy over her support for boycott, divestment and sanctions (BDS) against Israel for its illegal occupation of Palestine which prompted a furious response from the Zionist machine when Duggan was president of the American Studies Association (ASA). Ironically enough, I had been careful to avoid any mention of Duggan on Facebook or Twitter despite my disappointment over her oddly clumsy and utterly unpersuasive blog post and other statements about the Ronell affair. It is striking to me that someone in such a position of power in the academy would 'unfriend' all those who expressed disagreement not even with her but simply with the position she took in defense of Ronell in this sordid affair.
Duggan's private message to me ended with this injunction: "Please do not quote or circulate. This is intended as a private communication." Such a message is itself an exercise of power by one of the most famous and powerful academics in the field of LGBT studies/queer theory over someone who has no power whatsoever in academia and who has at best a marginal position on the edges of the queer theory world; it is also a classic act of manipulation and intellectually dishonest, since one cannot unilaterally impose an obligation of confidentiality without the other's consent, all the more so in the very same message in which one is effectively announcing the termination of whatever relationship existed up to that point. Were I a graduate student seeking employment in the same field, Duggan's message could be interpreted in a very sinister light indeed as a possible attempt to silence me with the threat of being blacklisted from academia entirely; certainly, a threatening message from a celebrity in the field who wields enormous power and influence with it could not be disregarded even by someone on the margins of academia who has no power or influence within it whatsoever. The irony is that Duggan (mis)characterized Nimrod Reitman as the embodiment of 'neoliberalism' while he is a powerless graduate student who was the victim of sexual harassment by Avital Ronell, an enormously wealthy, powerful and famous academic oligarch who is universally recognized as the hegemon in her field — just as Judith Butler is universally recognized as the hegemon in gender studies; one word from either Ronell or Butler can make or break an academic career and their obvious flagrant abuse of power is the real issue here. In defending Ronell's sexual harassment of a powerless graduate student and Butler's flagrant abuse of power it is Duggan — like Butler and like Ronell herself — who is the very embodiment of neoliberalism in its most rapacious corporate form.
One could be forgiven for hearing intimations of the confessional here while at the same time noting the inconsistency and contradiction if not outright hypocrisy in this statement. Sexual harassment is most certainly a 'transgression' of the law as well as accepted standards of behavior in the workplace in the United States in the twenty-first century; and no enforcement of laws and standards pertaining to sexual harassment is possible without 'intelligibility.' No legally constituted authority could come to any decision on a complaint of sexual harassment if that authority — whether a university administration, a city or state human rights commission or the U.S. Department of Justice or Education in the case of a Title IX complaint — could not find or make intelligible such a complaint; and of course, no duly constituted legal authority could possibly issue a decision that would be regarded as enforceable were the written text of that decision not intelligible to the complainant, the defendant and interested parties as well as the general public. Far from being 'fascist,' intelligibility is a sine qua non of democratic process and accountability in academia and every other domain; in a court of law, a clear statement of innocence or guilt is required to resolve both civil and criminal cases and intelligibility is the opposite of 'fascist,' though it is an indication of the moral as well as intellectual bankruptcy that Avital Ronell considers such intelligibility 'fascist.'
Most significantly, just as with the Catholic church and its ideology of canonical authority, so Ronell uses ideology to obscure her crimes and divert attention from them through deliberately obscurantist language which is part of a discourse of mystification that is entirely devoid of the true spirituality of mysticism; as Alexander Verney-Elliott writes so perceptively,
"For Avital Ronell writing is confessing. And the price of writing is confessing. To write is to pay a price. What is the physical price paid in the writing of Avital Ronell as the writing-on-the-wall written by Ronell as the confession of writing returning rewriting what Ronell wrote writing I confess to the crime of writing as writing of my crime. Uncannily, unwittingly, unwritingly, one can now read the writings of Avital Ronell afresh as a rehearsal for the writing of the crimes committed through the commitment of the crimes of writing. As if everything that Avital Ronell has ever written has been a coded confession of crimes to come or crimes committed. Coded because the telling tropes of deconstruction are all about the opaque, the nebulous, the surreptitious; the sly, the slippery, the furtive, the creepy, the underhanded, the undecided: Derridean 'undecidability' (which is why politically speaking deconstruction is profoundly petty-bourgeois and Avital Ronell 'inherited' her petty-bourgeois politics from the petty-bourgeois Jacques Derrida who inherited his politics from Martin Heidegger – a radical petty-bourgeois, as Karl Löwith correctly called him. So we can all now clearly see where Ronell is 'coming from' having inherited this 'radical petty-bourgeois' world-view (which clearly comes out in the decadent deconstructive writings of Heidegger and Derrida. Deconstruction 'works' so well for Ronell by putting into questioning any claims to truth, to stable definitions and definite meanings, to knowing reality, to knowing the Real and above all to being 'responsible' for the words that one utters as 'being' your 'words' where 'your words' are 'your actions' as an 'author' of your 'word-actions'. But Ronell, as a petty-bourgeois par excellence, abjects 'authorship' of (her) 'word actions' by being subserviently dutiful to the (sadly still fashionable) postmodern myth of the 'death of the author' which serves Ronell well regarding Reitman because Ronell was not the 'author' of any (of her) actions against Reitman: for 'it' was just phantom with no name, no authorship, no responsibility. But (our) Words are (our) Actions and so it was not at all surprising that Ronell's teacher, Derrida, despised and detested Jean-Paul Sartre and acutely avoided Mikhail Bakhtin. Deconstruction 'works' extremely well in the Ronell-Reitman case because Deconstruction places into doubt the system of oppositions, of crude and simplistic 'binary opposites', of those black and white 'dualisms' between good and bad, right and wrong, innocent and guilty: where nothing is clear-cut, where all is vague, blurred, opaque, nebulous; unclear, uncertain, undecided, unknown. Yet when it suits Ronell she strategically jettisons the 'undecidability' of Deconstruction: for now all is decided, for now all is clear, for now all is known to Ronell and so thus Ronell has exploited and adopted 'crude' clear-cut 'binary logic' now by 'acting' as being the 'victim', by 'acting' as being 'innocent', by 'acting' as being 'righteous' and thus reversing the reality of the real Ronell for Ronell has 'projected' her perpetrating 'predator-pedagogy' psycho-persona 'onto' and 'into' Reitman 'representing' Reitman as predator-perpetrator. Reitman has thus become the sociopathic monster (Real thing) that is Ronell. The Real is known: the Real is what Ronell is; a Real thing, a Real monster. Yet Lacanians, Derrideans and Ronellians 'clearly' cannot come to know the Real. That is the real tragedy. To make things 'perfectly clear' is to know the Real. Ronell makes the Real 'perfectly clear'. Ronell is clearly the Real. A Real monster. (To know thyself is to know thy monster) (Alexander Verney-Elliott, "Deconstructing Avital Ronell: or Knowing the Real Thing: Reading Avital Ronell Writing Avital Ronell Confessing," Facebook group, "The Avital Ronell Affair & the Death of Criticism," 12 September 2018).
"Whelan, an intimate of Judge Brett Kavanaugh, who is now a candidate for the position of associate justice on the Supreme Court, wrote a bizarre extended tweetstorm defending his friend from the accusations of Christine Blasey Ford, who accused Kavanaugh of attempting to rape her at a party 35 years ago… The stories of Whelan and Butler have nothing to do with whether one thinks Kavanaugh and Ronell did nothing at all or behaved appallingly. They have everything to do with the current crisis of American elites in many fields, including the law and higher education. For the lawyer and the professor are exquisitely similar… Their motives here are also similar: Eminent friends are being taken down at the peak of their professional career by someone who is, in their world, a nobody. It's outrageous, and it has to be stopped. And if, by so doing, you defame a classmate of Kavanaugh's, accusing him of attempted rape, or effectively threaten to obliterate a graduate student's career by lending a mob of literature professors the imprimatur of the MLA, so be it. That is the point and that is the sin: the willingness to stomp hard on a defenseless little guy in order to protect your highly privileged pal…"
Butler and Ronell have been called the leading feminists in the world today and both love to heap ridicule on Donald Trump; yet Butler's defense of Ronell's sexual harassment is strikingly like Trump's and Whelan's defense of Brett Kavanaugh just as the abuse of power that Butler and Ronell engaged in parallels the abuse of power both Trump and Kavanaugh engaged in; the irony is that two queer women who think of themselves as progressive feminists and despise the politics of Donald Trump replicate the abusive politics of the president and his Supreme Court nominee in wielding power without responsibility and insisting on insulating themselves from accountability and even public scrutiny. The Ronell scandal and Butler's leading role in it illustrate the all-too-common phenomenon of those who espouse progressive politics — what I would call 'external politics' — but practice institutional and interpersonal politics of the most despicable sort.
Ronell's most famous statement is her assertion that "To make things 'perfectly clear' is reactionary and stupefying. The real is not perfectly clear." But it is precisely that discourse that precludes even the possibility of accountability; when it comes to allegations of sexual harassment, Ronell would argue that there simply is no such thing and even if there were, it would be 'reactionary' to state clearly that sexual harassment (much less sexual assault) has occurred, or to assign responsibility to any individual for it. But no organization can survive indefinitely without clear lines of responsibility and accountability; without them, any organization — whether church, university, film studio, opera house or district attorney's office — will simply decline into pure self-aggrandizement (individual and collective). An ethic of accountability and responsibility requires that we clearly state where responsibility lies for ethical misconduct and hold those responsible accountable for such misconduct. NYU fell far short of the highest standards of ethical conduct by accepting a lettre cachet from Judith Butler and her confederates and keeping it secret, to the detriment of the victim of sexual harassment and in failing to discipline the perpetrator of that egregious sexual harassment with anything more than a proverbial slap on the wrist. The miracle is that the university acted at all in the face of a campaign of harassment and intimidation by Butler and her confederates directed toward the victim of sexual harassment; but the finding of guilt in this case on at least some of the charges is at least some small consolation to the victim as well as a repudiation (however mild) to Avital Ronell's legion of enormously powerful and unrepentant apologists.