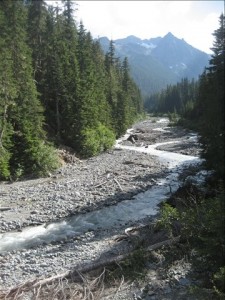 One of my favorite places on earth: Frying Pan Creek in Mt. Rainier National Park…
Awhile back, a friend of mine suggested I do '25 Things' on Facebook, but I was a little reluctant to do that application on Facebook (too much like a chain letter), so I'm doing it my own way, here on my own site. So here are 25 things you may not have known about me:
1)  My favorite food: chocolate. My least favorite foods: Brussel sprouts (despite having lived in Brussels), olives (even though I love olive oil). My favorite cuisines: Chinese, Japanese, Thai, Indonesian, French, Italian.
2) My favorite color to wear: fire engine red. The color I will not wear: orange (unless I suddenly and unexpectedly become a school crossing guard).
3) Schools I've attended: South Clement Ave. School, Fritsche Jr. High School, Bay View High School, the University of Wisconsin-Madison, the London School of Economics & Political Science, the University of Illinois at Urbana-Champaign, the school of life.
4) My favorite composer to listen to: Mozart. My favorite operas: "Die Zauberflöte" and "Così Fan Tutte." My favorite composers to play: Bach, Chopin, Debussy. My favorite composers to sing: Handel, Schubert, Schumann. My least favorite composers: Bruckner, Schoenberg, Shostakovich. My favorite sopranos: Bidu Sayao, Anneliese Rothenberger, Elisabeth Schwarzkopf, Victoria de los Angeles, Jessye Norman, Felicity Lott, Natalie Dessay, Yvonne Kenny, Karita Mattila. Favorite mezzo-sopranos: Conchita Supervia, Christa Ludwig, Marilyn Horne, Olga Borodina, Cecilia Bartoli, Elina Garanča, Joyce DiDonato. Favorite contraltos: Kathleen Ferrier, Marian Anderson. Favorite countertenors: David Daniels, Andreas Scholl. Favorite tenors: Enrico Caruso, Jussi Bjoerling, Tito Schipa, Juan Diego Flores. Favorite baritones: Dietrich Fischer-Dieskau, Bryn Terfel. Favorite basses: Feodor Chaliapin, Matti Talvela.
5) My favorite jazz singer: Ella Fitzgerald (esp. the Cole Porter & Gershwin songbooks). My favorite jazz standard: "Stardust" (Hoagy Carmichael). The only non-Western music that I've studied: Javanese gamelan. My favorite non-Western musical tradition: Balinese gamelan. My favorite Balinese gamelan musical genre: gamelan gong kebyar. My favorite Balinese gamelan dance genre: legong.
6) My favorite folk music: Celtic. My favorite folk songs: "Péarla an Bhrollaigh Bháin" (The Snowy Breasted Pearl), "Eamon An Chnuic" (Edmond of the Hill), "Snieu, Queeyl, Snieu" (Spin, Wheel, Spin – Manx spinning song) "Arrane Ny Vlieaun" (Manx milking song).
7) The songs I want sung at my memorial service: "Bist du bei mir" (Bach), "Litanei" (Schubert), "Beim Schlafengehen" (from the Vier Letze Lieder of Richard Strauss).
8) The work of literature (other than the King James Bible and the plays of Shakespeare) that I've read and re-read more often than any other : "The Lord of the Rings" (Tolkien).
9) My favorite poets: William Blake and John Keats (English), Joseph von Eichendorff (German), Charles Baudelaire and Paul Verlaine (French).
10) My biggest addiction: books (buying, reading, keeping, giving). My favorite bookstore: The Strand on Broadway & E. 12th St. in Manhattan.
11) The languages that I speak: only French, really (other than English, of course); but I used to speak German quite well and I've also studied Italian. I took a short course in (Mandarin) Chinese and can read Pinyin and Wade-Giles. I also took a semester of Swedish (Jag studerarde svenska). I'm also reading "Beowulf" in a dual Old English (Anglo-Saxon)/contemporary English language edition (translation by Seamus Heaney). The language I'd most like to be able to speak (and am most expected to speak) but can't: Korean — but I am trying to learn hangul (the Korean alphabet). The language that would be most useful for me to learn: Spanish. The languages that I find the most intriguing: Old English, Norwegian, Icelandic, Malagasy. My favorite dictum about languages: "Il faut parler français à ses amis, italian à ses amants, allemand à son cheval et espagnol au Dieu" (Emperor Charles V).
12) My favorite queen: Elizabeth Tudor. My least favorite (control) queen: Mike Bloomberg. The members of the British royal family I've seen in person: Charles, Prince of Wales (just once, by chance), Elizabeth II (riding in the Irish state coach to the state opening of parliament), the Princess Alexandra.
13) My least favorite number: 13. The numbers I like to think are lucky: 7, 11, 77.
14) The countries I'd most like to visit but haven't yet: Iceland, Norway. The most poorest and most unusual country I've visited: Romania. My favorite county in Romania: Maramures. The most intriguing country that I probably won't get to: Madagascar. The most romantic city I've ever visited: Venice. The city I'd most like to visit but haven't (yet): Vienna.
15) The countries I've lived in: Korea, US, UK, Belgium, France, Germany. The country I don't remember living in: Korea (I left when I was eight months old). The most annoying question about a country I've lived (or never lived) in: "Are you from North or South Korea…?"
16) The cities I've lived in: Seoul, Milwaukee, Madison, London, Chicago, Champaign-Urbana, Berlin, Regensburg, Brussels, Paris, New York. The most exciting cities I've lived in: London, New York. The least exciting city I've lived in: Champaign-Urbana. The most romantic city I've lived in: Paris. The most medieval city I've lived in: Regensburg. The most livable city I've lived in: Madison.
17) The smallest domicile I've lived in: a bedsit in Knightsbridge (London) that was the size of a large walk-in closet. The most unusual domicile I've lived in: Der Goldener Turm (the Golden Tower), a 12-century medieval tower in Regensburg (I lived in the renovated part of the building that dates from 1527).
18) The best health habits I've gotten into: reducing my consumption of refined sugar and saturated fat, using raw blue agave nectar as a sugar substitute, eating mache (a French salad green sometimes known as 'corn salad' or 'lamb's lettuce'), abjuring bottled water in favor of double-filtered water (tap filter + pitcher filter), walking instead of driving, climbing stairs instead of taking the elevator. Favorite source of animal protein: eggs (non-hormonal and certified humane, from cage-free hens).
19) My favorite artists: Jan Van Eyck, Albrecht Dürer, Antoine Watteau, Henri Matisse, André Derain, Utagawa Hiroshige, Katsushika Hokusai. My favorite architects: Louis Le Vau, Andrea Palladio, John Nash, Frank Lloyd Wright, I.M. Pei.
20) The head of government I least admire whom I've seen in person: Margaret Thatcher, who I saw going into Westminster Abbey to attend the memorial service for Rab Butler while I was living in London. The president I most admire: Abraham Lincoln. The worst presidents in history: George W. Bush, Ronald Reagan. Worst vice-presidents in history: Dick Cheney, Dan Quayle. The presidents I found the most disappointing: Jimmy Carter, Bill Clinton. The president I feel most sorry for: William Henry Harrison. The only president I've seen in person: Richard von Weiszäcker, president of the Federal Republic of Germany (whom I saw on the day of German reunification, 2 October 1990).
21) The most significant moment in world history that I've participated in: the formal reunification of Germany in October 1990; I was in the crowd of 3 million people in the Tiergarten as the president and the chancellor rang in the new 'deutsche Einheit' (German unity).
22) My most significant achievement: leading the campaign for enactment of the New York City transgender rights law (Int. No. 24, enacted as Local Law 3 of 2002 in April 2002). The personal achievements that took the longest to accomplish: getting a Ph.D. (five and-a-half years); coming out as an openly transgendered woman (36 years).
23) The organizations that I've co-founded: Gay Asians & Pacific Islanders of Chicago (GAPIC) (1994), Queens Pride House (1997), Iban/Queer Koreans of New York (Iban/QKNY) (1997), the New York Association for Gender Rights Advocacy (NYAGRA), the Out People of Color Political Action Club (OutPOCPAC) (2001), the Guillermo Vasquez Independent Democratic Club of Queens (GVIDCQ) (2002). The organization I will not give money to: the Human Rights Campaign (HRC).
24) My favorite philosopher: Zhuangzi (The Seven Inner Chapters). My least favorite philosopher: Heidegger (a boring Nazi windbag). The denomination I grew up in: the Lutheran Church-Missouri Synod. The denomination I now belong to: Unitarian Universalism (my congregation is All Souls Unitarian Church in Manhattan). The religious habit I find most annoying: door-to-door proselytizing by Jehovah's Witnesses. The religious prejudice I find most disturbing: Islamophobia. Religious figures I most admire: Mohandas K. Gandhi (the Mahatma), the Rev. Dr. Martin Luther King, Jr., the Rev. Forrest Church. Religious figures I least admire: Jerry Falwell, Pat Robertson, Jimmy Swaggart, the Ayatollah Ruhollah Khomeini, the Ayatollah Ali Khamenei, Muqtada al-Sadr.
25) The one thing I won't be doing anytime soon: 25 Things on Facebook.