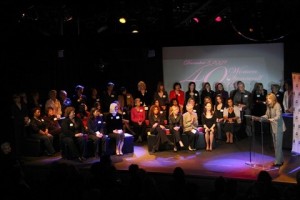 The Stonewall Honors 40 event at the Highline Ballroom on 3 December 2009…
The Stonewall Honors 40 event on Thursday could hardly have been better attended: more than 500 people crowded into the Highline Ballroom to honor 40 women as part of the Stonewall Community Foundation's commemoration of the 40th anniversary of the Stonewall Riots. I was honored to be among the 40 women honored on December 3.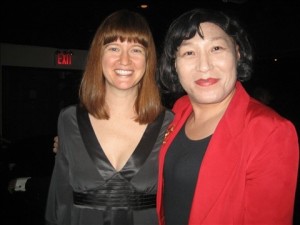 Beth Greenfield & Pauline Park
Among the honorees were Beth Greenfield, the editor of the gay and lesbian section of Time Out New York (a.k.a., TONY), which noted that Kelli O'Donnell, me and Beth herself were to be honored at the event.  Also honored was my friend and activist colleague Kim Ford, who co-founded African Ancestral Lesbians united for Social Change (AALUSC) and who currently chairs the board of directors of the Audre Lorde Project.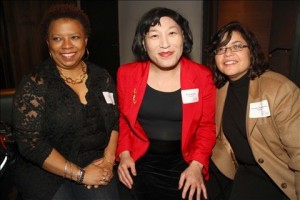 Kim Ford, Pauline Park & Rosie Mendez
The most prominent honoree was City Council Member Rosie Mendez, the 'out' lesbian who represents the 2nd Council district (which includes the Lower East Side); Rosie was there with her charming girlfriend, whom I met for the first time.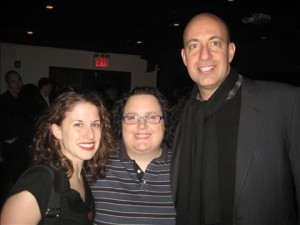 Sabrina Shulman & Rosemary Collucio with (the very tall) Leo Preziosi, Jr.
In addition to being honored, I had the pleasure of seeing friends and colleagues from throughout the LGBT community, including Terry Boggis, Eliza Byard, Paula Ettelbrick, and Cynthia Rothschild, among others. And I also was delighted to see Sabrina Shulman and Rosemary Coluccio — whom I first met when they were on staff at the Empire State Pride Agenda — and Leo Preziosi, Jr., the executive director of Live Out Loud. Sabrina is now political director of NARAL Pro-Choice New York as well as a member of the Live Out Loud board of directors.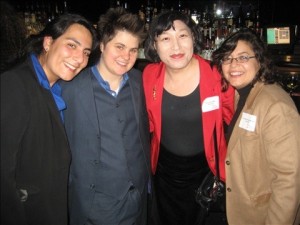 Karla Saavedra, Yetta Kurland, Pauline Park & Rosie Mendez
Also in attendance was Yetta Kurland, a civil rights lawyer whom I endorsed for City Council when she challenged Christine Quinn in the Democratic primary in September.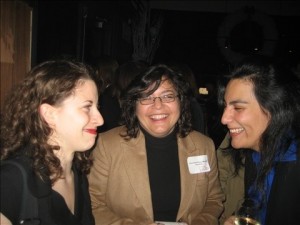 Sabrina Shulman, Rosie Mendez & Karla Saavedra.
Thanks to the Stonewall Foundation staff (Bill Mattle, Bill McDermott, Thai Pham) and the organizing committee (ably led by Dana DeVille and Jennifer Hatch) for putting together a wonderful event~!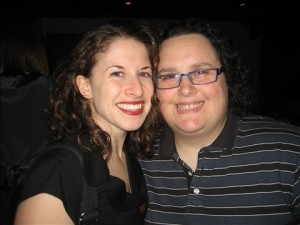 Sabrina Shulman & Rosemary Collucio